UK public borrowing jumps in February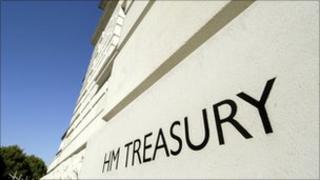 The UK government borrowed almost twice as much as expected in February, official figures have shown.
Public sector net borrowing, excluding interventions such as bank bail-outs, rose to £15.2bn, the Office for National Statistics (ONS) said.
This compared with £8.9bn in February 2011 and was much more than analysts' forecasts of £8bn.
The figures may come as a blow to the Chancellor, George Osborne, who has delivered his third Budget.
A Treasury spokesman conceded that borrowing was high for the month.
However, with only one month of the financial year to go, the government still looks set to beat its borrowing target of £127bn for 2011-12, though not by as much as previously anticipated.
'Final splurge'
For the year to date, borrowing totalled £110bn, down from £118.9bn for the first 11 months of 2010-11, the ONS said.
Vicky Redwood, chief UK economist at Capital Economics, said the figures provided a "disappointing backdrop" for the Budget.
"Growth of tax receipts slowed and, after underspending for the rest of the financial year, departments appear to have had a final splurge [in February]," she said.
The independent Office for Budget Responsibility lowered its borrowing forecast for 2011-12 to £126bn from £127bn in the autumn.
Its estimate for 2012-13 remains at £120bn, excluding the transfer of assets from the Royal Mail pension fund to the government.