Oil price worries for Bank of England rate setters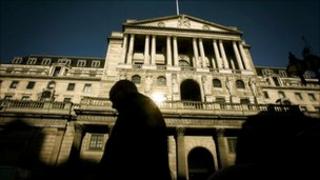 Officials at the Bank of England say that rising oil prices present "clear risk" to the economy.
In minutes from the Monetary Policy Committee (MPC) meeting earlier this month, officials said that high oil prices could slow the global and UK recovery and drive up inflation.
The minutes also show that MPC officials voted 7-2 to keep the quantitative easing (QE) asset purchase target at £325bn.
Two members voted to raise the target.
Adam Posen and David Miles wanted the QE target to be raised to £350bn.
The Bank started its QE programme, which involves buying mainly government-issued bonds, in 2009.
Last month, the MPC decided to raise spending on the programme by £50bn to give the economy a further boost.
All nine members voted in favour of keeping interest rates at their record low of 0.5%, which has been in force for the past three years.
In the minutes, officials noted that growth last year was at the lower range of their estimates at 0.8%.
Inflation has been falling in line with the MPC's expectation, with consumer prices increasing at an annual rate of 3.6% in January compared with 5.2% last September.
But it was not clear to the committee how rising oil prices would affect inflation in future months.
"A clear risk surrounded the outlook for crude oil prices. The increase on the month appeared to have been driven primarily by fears of future disruption to the supply of oil.
"Any worsening of the underlying tensions in the Middle East could have significant implications for future oil prices," the minutes said.