Zara-owner Inditex profits soar as growth continues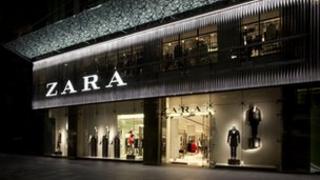 The owner of Zara, Spain's Inditex, has reported annual profits of $2.6bn (£1.6bn) up 11.% on the previous year.
Despite a slowdown in some of its most important European markets, like-for-like sales, which strip out the affect of store openings, rose 4% last year.
Inditex opened 483 stores last year. It now has 5,527 worldwide and plans to open up to 520 stores this year.
The company has also been investing in its online business and plans to launch Zara online in China later this year.
Inditex opened 132 new stores in China last year, 30 of which were Zara branded.
Analysts were impressed by the performance.
"Like-for-like sales and gross margin seem healthier than expected in the final quarter," Societe Generale analyst Anne Critchlow said. "On every level of the high quality indicators, it is a beat."
Shares hit a record on Tuesday, closing at 71.74 euros, after rising 13% this year.
That has helped make Inditex founder, Amancio Ortega, Spain's richest man.
Mr Ortega owns almost two thirds of Inditex.