Oil gains despite Saudi Arabia's pledge to boost supply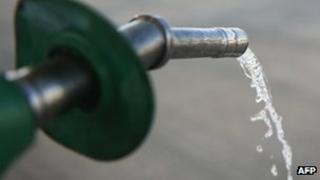 Oil prices have climbed as concerns about supply overshadowed Saudi Arabia's pledge on Tuesday to boost its output by a quarter if needed.
Saudi Arabia's comments prompted a 2% drop in oil prices on Tuesday.
However, in morning trading on Wednesday, Brent crude was up 31 cents at $124.43 per barrel, and New York light was up 79 cents at $106.57.
A number of issues are driving prices, including unrest in the Middle East and North Africa, and tough Iran sanctions.
Oil is up 15% in 2012 and while current prices are well off the record high of $147 seen in 2008 they are getting close to levels that worry both analysts and policymakers.
Christine Lagarde, the managing director of the International Monetary Fund, said on Tuesday that a sudden increase in the price of oil was one of the main threats to the stability of the global economy.
The worry for many countries is that as the price of oil climbs, so will the cost of doing business, manufacturing products and transporting goods across the globe.
In an attempt to ease concerns, on Tuesday Ali al-Naimi, Saudi Arabia's oil minister, said the country would step into the market if needed.
"My only mission is to convey to you that there is no supply shortage in the market," the minister said. "We are ready and willing to put more oil on the market."
Saudi Arabia is the world's biggest producer of crude oil, currently outputting 9.9 million barrels per day. The minister said it could boost output to 12.5 million barrels per day if needed.