Hollywood plays China card as audiences dwindle at home
By Katie Hunt
Business reporter, BBC News, Hong Kong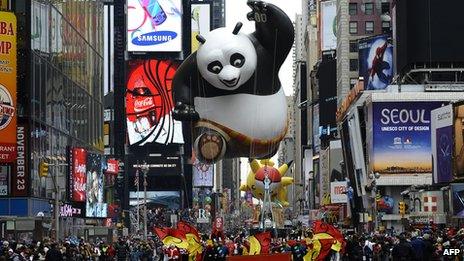 From Optimus Prime fighting in a Shanghai industrial estate in Transformers 2 to the success of the animation franchise Kung Fu Panda, China is an increasingly visible presence in Hollywood movies.
And Chinese backdrops, actors and themes are likely to become more commonplace, industry experts say, as cash-strapped film-makers look to appeal to the region's rapidly expanding cinema audiences as moviegoers begin to dwindle in number at home.
"I do think there's finally, in Hollywood, a head turning toward Asia and China in particular," said Tracey Trench, who has produced several Hollywood movies including The Pink Panther.
"I know studio executives and even chairmen of studios who have never been to China, who are now saying 'I need to go,'" she told a seminar at Hong Kong's International Film and Television Market trade fair (Filmart).
But it's a process fraught with difficulties. Catering to Chinese audiences can be challenging, especially when you have to take skittish censors into account.
In some respects, Hollywood is already doing well in China. Blockbusters like Avatar have been hugely popular and foreign films - usually big-budget Hollywood fare - account for about half of the country's box office takings.
But studios, dazzled by China's growth opportunities, are frustrated by the limits Beijing places on the number of foreign films that can be released in China.
For the past decade, China has only permitted 20 foreign films to be shown in cinemas. A new deal agreed last month allows a further 14 movies to be shown in cinemas, provided they are in Imax or 3D formats.
China is certainly rich in potential. Box office takings surged 29% to $2.1bn (£1.3bn) in 2011 and are expected to see similar growth in 2012. While that's only a fraction of the $10.2bn taken at the US box office, US ticket sales are declining.
Hollywood is courting Chinese audiences in a number of different ways, says Ms Trench.
Often it is superficial - a Chinese backdrop for a few scenes or the appearance of a "token" Asian star such as Taiwanese singer-turned-actor Jay Chou, who featured in 2011 superhero action comedy Green Hornet.
In other cases it is more dramatic. One studio reportedly digitally altered a film out of concern it might offend Chinese sensibilities. The producers of Red Dawn, a Cold War drama due to be released in 2012, replaced the original Chinese villains with bad guys from North Korea - a country where US media companies have little at stake.
Other film-makers and studios are forging joint ventures with Chinese companies in a bid to secure Chinese funding and distribution for their projects.
Legendary Pictures, a US film finance and production firm known for hits like The Dark Knight and The Hangover, has launched Legendary East with a Chinese partner and will now concentrate on English-language movies with Chinese themes.
Its first movie project will be entitled The Great Wall and will be written and directed by Edward Zwick, who directed The Last Samurai. As a co-production with a Chinese company, it will also not be subject to Chinese restrictions on imported movies.
In February, Dreamworks announced it was teaming up with China Media Capital to form Oriental Dreamworks, which will be based in Shanghai and will produce animation and live-action films for family audiences both in and outside China.
"It's economics and it makes sense," says Tim Kwok, a film producer and distributor who has worked in Hong Kong and Los Angeles. "There is a lot of Chinese money there."
However, Mr Kwok says that US film-makers are often not aware of the restrictions on making films in China.
All scripts must be approved by government censors before filming begins, and many elements widely used in commercial Hollywood films - violence, explicit sex and even plots involving time travel - are forbidden.
It's also hard to know what works with Chinese audiences. While big-budget blockbusters like Avatar and Transformers have done well in China, Chinese remakes of High School Musical and What Women Want, starring Andy Lau and Gong Li instead of Mel Gibson and Helen Hunt, have flopped.
"China is an incredibly diverse market, there are lots of regional differences. Beijing humour is very different to Shanghai humour," says Mr Kwok. "I think US film makers need to spend time in China to educate themselves about how the market works."
Kung Fu Panda and its sequel are arguably the most successful Chinese-themed Hollywood movies to date, and the movie's screenwriter, Glenn Berger, says Hollywood's China infatuation is not necessarily a passing fad.
"I think Hollywood is consistently trying to introduce whatever the hot new element is, and Asian in general and China in particular is very hot right now," Mr Berger told the Filmart seminar.
To get the details right, Mr Berger and his colleagues at Dreamworks travelled to China, read books on Chinese art and philosophy, and employed martial artists to choreograph the fight scenes.
However, he says that the most important factor is not where the movie is set but whether the story has universal appeal.
"Kung Fu Panda a classic underdog story, we never thought we were trying to tell a Chinese story," says Mr Berger.