Goldman's top economist: there is no economic crisis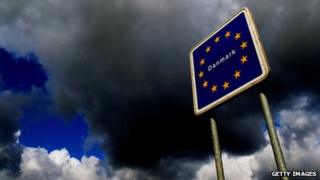 Crisis, what crisis? That is the attitude of Jim O'Neill, one of the most influential economists and bankers in the world.
The head of Goldman Sachs Asset Management and the company's former chief economist does not believe the world economy is in trouble.
Far from it.
Mr O'Neill not only believes the world is doing pretty well, he also predicts that it is set to do even better.
Over the years, Mr O'Neill has tended to make the right call when it comes to trends in the world economy.
He was once described as the world's first rock star economist, such was his talent for predicting movements in the $1 trillion a day foreign exchange markets.
His real fame came over a decade ago when he forecast the spectacular growth of Brazil, Russia, India and China.
'Rebalancing'
He is the man who coined the Bric acronym to describe the emergence of these tiger economies, and his success has grown with them.
But Mr O'Neill says he is frustrated and irritated by the attitude of many people in Western economies who see the rapid growth of so-called developing economies as a threat to rich economies.
"People are so mired in their own self-interest and post-crisis gloom," he says. "They are not as interested in the rest of the world doing better as I believe they should be."
This preoccupation with short-term doom and gloom tends to blind people to the fact we are living through one of the greatest periods of economic transformation in history, he reasons.
What is happening, he believes, is nothing less than a great rebalancing of the world economy.
We are on the verge of a key milestone in this process.
Dramatic turnround
The International Monetary Fund (IMF) is forecasting that next year the so-called developing world will out-produce the developed world for the first time.
It is a dramatic turnaround.
As recently as 10 years ago, the developed world still dominated the global economy, producing some three-fifths of world GDP.
Next year, just over half of all output will come from developing countries, the IMF forecasts.
What is happening is that the world is becoming a lot more equal, Mr O'Neill believes.
And he thinks that is a good thing, pointing to the United Nation's latest report on world poverty.
"The Millennium goal of halving poverty of 1990 by 2015 has been achieved five years earlier," he stresses.
"How can that be anything other than a fantastic thing?
"But it rarely ever gets discussed."
'No complaining'
The idea that there is a widespread financial crisis is simply wrong, Mr O'Neill believes, insisting that most economies - even in the West - are doing just fine.
"Germany is doing really well," he says.
"German unemployment fell to a 20-year low last month. You don't hear too many people in Sweden complaining. You don't hear too many people in Canada or Australia [complaining]."
In fact, says Mr O'Neill, the crisis is focused on a handful of nations - the US, the UK and the struggling Mediterranean countries.
So much so, he tells me, that many Asian policymakers call the so-called global credit crisis the North Atlantic Crisis.
"The problem countries are the ones that had the most amount of leverage going into the crisis," Mr O'Neill reasons, referring to the ones that had borrowed too much money.
"And they are struggling to deal with an economy that can't use that much leverage."
Win-win
What is required now is a global perspective, he believes.
"The world economy, despite all the challenges we have in some Western countries, appears to be growing at between 3% and 4%," he says.
"And if we look at how this decade will evolve, it looks to me as if the world, the true world's growth trend, is actually accelerating, despite some of the severe challenges in some countries.
"At the risk of sounding like an economist," he says, "international trade and globalisation in the aggregate is a win-win.
"There are obviously costs and major adjustment costs for some countries in some segments, but it is a win-win and we are seeing evidence of it."