Glencore buys Canadian grain firm Viterra for $6.2bn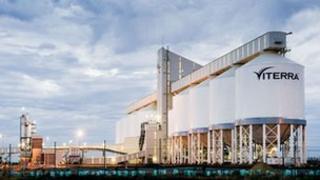 Commodities trader Glencore is buying Canada's Viterra for $6.2bn (£3.9bn).
Viterra is Canada's largest handler of grain. It owns port and storage facilities in the west of the country.
Glencore has two partners in the deal. Fertiliser supplier Agrium and grain handling firm Richardson will buy most of Viterra's Canadian business for $2.6 billion combined.
Glencore is currently in the process of merging with mining group Xstrata.
As well as producing and marketing metals, minerals and oil, Glencore is also looking to expand in agricultural products.
"The acquisition of Viterra is consistent with Glencore's strategy of strengthening its position as one of the global leaders in grain and oilseeds markets," the company saidIn a statement.
The firm said the deal would be good for Canadian farmers.
"Glencore's global reach and expertise will provide farmers with strong protection from market volatility, more options to market their grain and oilseeds, and more competitive pricing resulting from Glencore's wider markets access and its more consistent demand for grains and oilseeds," it said.
The price paid for Viterra is almost 50% more than the company was worth on 8 March, the day before Viterra first announced it had received a takeover approach.