Nissan brings back Datsun budget brand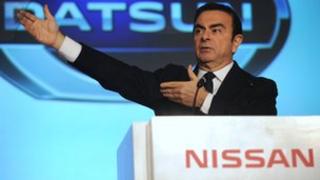 Nissan has announced a plan to revive Datsun as a low-cost marque, 31 years after removing it from its line-up.
The Japanese carmaker said the brand's reputation for value and reliability would help it in emerging markets.
Datsun models will be sold in Indonesia, Russia and India from 2014.
Nissan has not decided where the Datsun-branded cars will be produced, but a spokesman said that it was likely to be in Asia.
"It is ironic, as Nissan spent 10 years in the 1980s trying to get rid of Datsun," said Jay Nagley, managing director at the consultancy Redspy Automotive.
"It's becoming quite common for car makers to develop low cost brands. Renault has been successful with Dacia, Volkswagen with Skoda.
"Nissan wants to create a low cost brand without giving Nissan cars a low cost image."
Nissan's chief executive Carlos Ghosn revealed details about the Datsun revival plan during a visit to Indonesia, where he also announced that the carmaker would invest $400m over the next two years.
This would make the nation one of Nissan's biggest production centres in Asia.
Indonesian President Susilo Bambang Yudhoyono welcomed the announcement.
"Nissan is bringing new jobs and new vehicles to Indonesia," he said.