Hong Kong approves third runway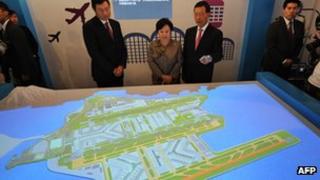 Hong Kong's Executive Council has approved "in principle" the construction of a third runway at its international airport.
The runway, which is expected to cost $17bn (£11bn), will be Hong Kong's most expensive project.
The airport is expected to operate at full capacity by 2020.
There have been fears of air traffic congestion, though the expansion plans have also faced opposition due to environmental concerns.
Authorities said they would take adequate measures to ensure proper procedures were followed while constructing the runway.
"We understand that airport development is crucial for maintaining Hong Kong's status as an international business centre," said transport and housing secretary Eva Cheng.
"What is also important is that infrastructure development must comply with current laws."
Growing demand
The Hong Kong airport is one of busiest in the world, with about 54 million passengers passing through every year. It is also the world's busiest air cargo hub.
Given its proximity to China, and growing demand for exports from the region, the cargo traffic is likely to continue growing for years yet.
Hong Kong has also becomes a key financial hub, which has seen many companies set up their regional offices in the city.
That has added to the growth in passenger numbers.
John Slosar, chief executive of Cathay Pacific, said that a third runway was "the only viable option to ensure the long-term competitiveness of Hong Kong as an important international financial centre, trading and logistics hub, tourism destination and professional services capital".
The approval comes at time when Hong Kong has also been facing increasing competition from nearby airports in Guangzhou, Shenzhen and Macau.
Environmental concerns
One of the biggest concerns over the construction of the third runway has been its impact on the environment.
This is because most of the space needed to construct the runway will have to be reclaimed from the sea.
According to some estimates, as much as 650 hectares (6.5 sq km) may need to be reclaimed to provide adequate space for the runway.
This has raised fears about how that may affect Chinese white dolphins, a protected species in Hong Kong, which gather at a marine park nearby.
There have also been worries the construction, and the subsequent increase in the number of flights coming into the airport, will increase pollution, which is already a big concern among residents.
Ms Cheng said the the authorities "must carefully study the issues of concern, such as marine ecology, noise and air quality".
"It is of vital importance that all possible measures to avoid or mitigate such impacts must be explored."