Debenhams sees 'resilient' sales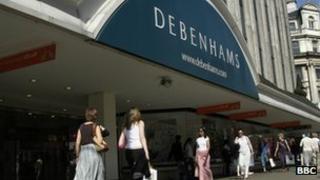 Sales at Debenhams rose slightly in the past six months, helped by "resilient" trading since the turn of the year.
For the 26 weeks to 3 March 2012, like-for-like sales, which exclude the impact of new stores, rose 1.4% on the same period a year ago. But excluding VAT they rose only 0.3%.
In the most recent period, for the eight weeks to 3 March, like-for-like sales rose 2.4%.
Debenhams said it was pleased with the sales growth.
"Whilst it is prudent to remain cautious about the health of the wider economy and the impact this may have on consumer behaviour in the short term, we remain comfortable with the outlook for the full year," said chief executive Michael Sharp.
"Over the medium term, we are confident of the benefits that our strategy will bring to Debenhams."