Europe's economic crisis hits Metro profits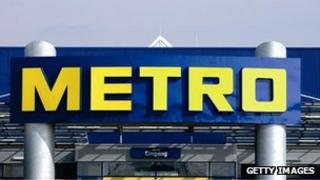 The German retail giant Metro has reported a sharp fall in profits, as European shoppers cut back spending in the midst of the economic crisis.
Net profits fell 26% to 631m euros ($833m; £525m) in 2011. No improvement was expected this year, Metro said.
Metro had earlier hoped to sell its department store chain, Galeria-Kaufhof, but adverse market conditions made it suspend that plan in January.
Metro also owns Media-Saturn, Europe's biggest chain of electrical stores.
"We hoped that we would see improvement in 2011, which did not happen," chief executive Olaf Koch, who took over at the start of the year, told the BBC's World Business Report.
"Things got much worse."
In a statement, Mr Koch also warned of further cost cutting under his leadership.
"We achieved our cost saving targets with Shape 2012, but still see a lot of potential with regard to productivity gains."
"What we need to do now is to raise our relevance as a retailer for the customer," Mr Koch said.
Sales at Metro's biggest business, Metro Cash and Carry, rose 0.2% last year to 31.2bn euros.
But both Media Saturn and Galeria-Kauhof reported falls in sales.
Media Saturn sales fell 0.9% to 20.6bn euros and Galeria-Kaufhof fell 3.7% to 3.4bn euros.