China and IDB to launch $1bn fund for Latin America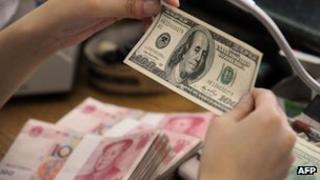 China and the Inter-American Development Bank (IDB) have announced plans for a $1bn (£630m) fund for Latin American markets.
The fund will make equity investments in the region and also finance public as well as private sector projects.
State-owned Export-Import Bank of China and IDB will invest $150m each with rest of the funds to be raised from the market.
China has been looking to increase its investment in the region's economies.
Luis Alberto Moreno, IDB president said: "This new platform will promote stronger investment ties between China and Latin America and the Caribbean and helping our region overcome some of the most important development challenges."
Win-win?
Foreign investment in Latin America has been growing in recent years.
According to theUN's Economic Commission for Latin America and the Caribbean (ECLAC), foreign investment in the region grew by about 40% in 2010 to $113bn.
The surge has been led by China, which is the fastest-growing foreign investor and accounts for almost 9% of investment flowing into the region.
A separate reportby the Inter-American Dialogue last month, showed that Chinese state-owned banks lent $75bn to Latin America between 2005 and in 2010.
Analysts said that China's investments and lending to the region were driven by two major factors
Firstly, Latin American countries have abundant natural resources such as oil and iron ore. Given its high rate of growth, China is keen to secure supplies of the commodities to meet the growing domestic demand.
At the same time, some of the Latin American economies are still in a developing stage. That means these countries need to build infrastructure to boost their growth.
Analysts said Beijing was using its financial power to help its exports in these sectors.
"Chinese banks almost always tie their loans to the purchase of Chinese goods," the Inter-American Dialogue report said.
"Aside from a few loans-for-oil and smaller loans with few details available, there are conditions in every loan requiring the borrower to purchase Chinese construction, oil, telecommunications, satellite, and train equipment."