Cash machine use reaches new record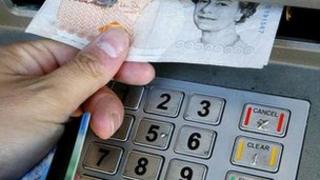 The use of cash machines in the UK hit a record level in 2011, with £191bn withdrawn over the year, figures show.
ATMs were used 2.87 billion times over the year, so the average withdrawal was £67 on each visit.
The Payments Council, which collated the figures, said that the frequency and value of withdrawals was higher than the previous record in 2008.
One reason for the increase in use was the rise in the number of ATMs in the network that dispensed £5 notes.
The number of cash machines in the UK's Link network increased to 64,369, with use accelerating towards the end of the year.
"The underlying reasons would be the low levels of withdrawals a year earlier during the period of heavy snowfall, the increase in the number of free-to-use machines, coupled with an increase in the number of machines dispensing £5 notes, and a possible slight increase in demand for cash by people who prefer to use cash as a budgeting tool to control their spending," said a report by the Payments Council.
The report also said there was a 12% decline in the number of cheques used in 2011 compared with the previous year, to 682 million.
Meanwhile, more transfers of money were made through the Faster Payments system, which sees funds leave one person's account and enter the recipient's account by the end of the next working day.