Will China own our roads?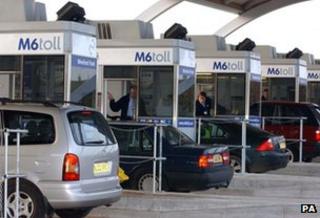 The government believes that by handing over responsibility to the private sector for maintenance and expansion of motorways and trunk roads via long leases it would get more bang for its buck - and it hopes that drivers would be pleased to see that government revenues of perhaps a billion pounds a year had been pledged for the long term, not any longer subject to annual budget haggling.
David Cameron's idea appears to be that the private sector would do the job currently done by the Highways Agency better and more efficiently.
Officials argue that the water industry shows what can be done when private sector companies are rewarded for maintaining and improving important infrastructure - and they also say that there are plenty of examples on the continent of what they have in mind for roads.
That said, if the preferred model of leasing the roads for up to 100 years were to go ahead, there would not be much of an upfront capital windfall for taxpayers - perhaps a billion pounds on my calculations.
There would be concerns that the new private companies would take tax revenues from the government and then make their profits by scrimping on maintenance. Which is why a new regulator - perhaps called OffRoad - would be created to hold the new road companies to account.
There is, of course, something slightly counter-intuitive about the idea that state regulation of local monopolies would in the long run turn out to be more efficient than the existing non-profit-making state provision - although in the case of water (and perhaps broadcasting too) as a nation we appear to have endorsed that model of privatisation.
Even so, there will be a suspicion that this is all about taking advantage of the cheap finance that's available for long-term, low-risk investment projects - which is itself the result of all that massive money creation by the Bank of England and other central banks that's designed to help us through our low-growth years of refinancing our highly indebted economy.
There is a general expectation that the Chinese state - its sovereign wealth fund - will own and finance some of Britain's roads under the new arrangement. It may well be sensible to be sceptical about this, given that there has been plenty of talk about a wall of money coming from China to rehabilitate the over-indebted West and as yet we've barely seen a trickle.
But if the Chinese money were to materialise, it should still be seen as a function of a world awash with cheap money, because when the Chinese (or anyone) lend money to the British and American governments right now they get a negative real return (they lose money) on short term loans and earn about 1% real on very long-term loans (because interest rates are so low).
So putting money into a new British roadco should be able to generate a real return of at least double or treble what lending directly to George Osborne would yield.
By the way, it is very unlikely that these roadcos would be owned or managed by British life insurance companies or pension funds - which may upset some of you. And the reason is that the Solvency ll directive coming out of Brussels increases the implicit cost of this sort of investment for these British investment institutions.
Here of course is what many would see as the biggest flaw in road privatisation a la the coalition.
Arguably it would be more financially efficient to put all the trunk roads and motorways into a new specially created publicly-owned company, and then finance it as ring-fenced organisation via direct long-term government borrowing.
This idea was put to me the other day by Tidjane Thiam, chief executive of the Prudential.
On one iteration, the new state-owned infrastructure company could be a proudly British sovereign wealth fund, whose net assets and income stream could finance part of the trillion pounds plus liability for public-sector pensions.
Of course on this version the radical idea would not be the privatisation of roads but the notion that public-sector pension promises would be underpinned by a discrete and substantial pool of income generating investments.