Premier Foods pushed into loss by Hovis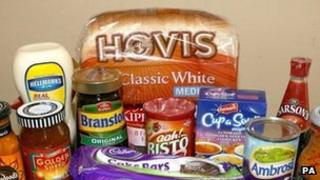 Hovis and Mr Kipling owner Premier Foods has announced a £259.1m pre-tax loss for 2011 after writing down the value of its bread division.
Fierce price competition in the bread market meant that trading profit in the division fell 90.4% to just £3.4m.
The group's overall loss compares with a profit of £28.5m in 2010.
Last week the company, which had run up large debts, was able to secure its future after it gained more time to repay £1bn of loans.
Its banks have now extended its repayment deadline from 2013 to 2016.
Recently it said it would cut 600 jobs, about 5% of its 12,000-strong workforce, to trim costs.
'Draw a line'
The rising cost of wheat last year, affected by wildfires and droughts in Russia, pushed up the price of bread.
Premier Foods said at the time that it was necessary to pass increases on to retailers, but at one point, Tesco refused to stock some Hovis products.
The fall in profitability has now led to Premier cutting the value of its bread arm by £282m.
The company had already been struggling with debts, racked up after buying brands such as Homepride and Fray Bentos.
Chief executive Michael Clarke said he intended to "draw a line under the performance of 2011" and focus on the refinancing package agreed with banks.
"Having put the financing and strategic building blocks in place, our immediate priorities are to implement this refinancing package, continue stabilising the business, refocus the portfolio and invest in our future growth," he said.
Shares in Premier were down 6.2% in afternoon trading.