Royal Mail pension deal approved by EU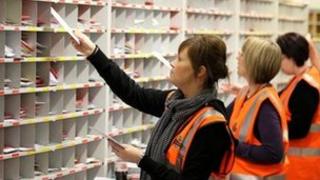 The nationalisation of the Royal Mail's pension scheme has been approved by the European Commission.
It had looked at the plan, part of the Postal Services Act passed last year, to make sure there was no excessive state subsidy involved.
The act allows the government to privatise the Royal Mail, but without its huge pension scheme liabilities.
Privatisation is expected to take place soon, with the pension scheme being transferred to the state next month.
That will give the government a temporary £28bn windfall from becoming the owner of the scheme's assets.
Meanwhile, the scheme members will now have their promised pensions guaranteed by the government.
For all pension earned to date, the scheme will become an unfunded arrangement, paid for out of taxation, like the schemes for teachers, civil servants, NHS staff and the armed forces.
The European Commission's vice-president in charge of competition policy, Joaquin Almunia, said: "In order to achieve a level playing field in postal markets, it is crucial that incumbent operators neither enjoy undue advantages, nor suffer from structural disadvantages in comparison with competitors.
"The relief of excessive pension costs and the restructuring aid approved today will help ensure this balance for Royal Mail and its competitors."