Goldman Sachs resignation letter 'could prompt change'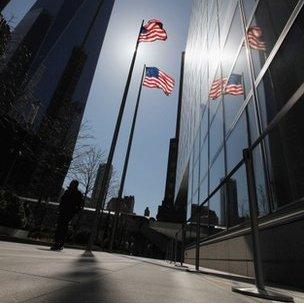 A resignation letter describing the culture of Goldman Sachs as "toxic" could encourage the US investment bank to take more care of its clients, a senior executive has told the BBC.
This week, a former senior manager at the bank, Greg Smith, wrote that staff had referred to clients as "muppets".
But Jim O'Neill, chairman of Goldman Sachs Asset Management, said the bank was constantly worrying about clients.
New York Mayor Michael Bloomberg has also expressed his support.
"Obviously when something like this happens we worry about it," Mr O'Neill told BBC World Business Report.
"But if it encourages us to be even more respectful and thoughtful for our clients, then maybe it's not entirely a bad thing."
Greg Smith's resignation letter was published in the New York Times and attracted attention from around the world.
"To put the problem in the simplest terms, the interests of the client continue to be sidelined in the way the firm operates and thinks about making money," wrote Mr Smith, who was a manager in the bank's London office.
Mr O'Neill also said that it was "preposterous" to suggest that there was any conflict between serving clients and Goldman Sachs making money for itself.
He said that the clients who are most content acknowledge that the firm has to make money to give them a good service.
Greg Smith claimed that colleagues would "callously... talk about ripping their clients off".
"I don't understand why this guy wrote what he did," Jim O'Neill told the BBC World Service. "He must have left, I assume, in a slightly disgruntled manner," he said.
Michael Bloomberg, Mayor of New York, where the bank has its headquarters, said the amount of attention given to the letter had been "ridiculous".
He visited the company to show his support for the company which he said was an important provider of tax revenue in his city.
Speaking on a radio talk show on Friday morning, the mayor - who also owns the eponymous financial data firm subscribed to by investment banks - described Goldman was "a great firm".
He criticised Mr Smith's decision to publicise his views, calling the piece in the New York Times "a nasty letter from an employee".
Goldman has been criticised over its role in the global financial crises, including the US housing market and the Greek government's debt problems.
Rolling Stone magazine notoriously likened the bank to "a vampire squid wrapped round the face of humanity".
"Part of me wonders as to... this excessive interest and attention in the culture of ours," Mr O'Neill said.
"Of course we want to make money. At the end of the day, if we don't provide what clients want, then we won't be what we are."
Related Internet Links
The BBC is not responsible for the content of external sites.