Failed Icelandic bank Glitnir to repay UK councils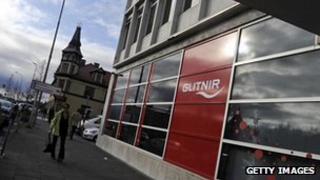 Local authorities in the UK are set to be paid back funds lost when the Icelandic bank Glitnir failed in 2008.
More than 50 local councils lost £186m when Glitnir failed, and universities and charities also lost money.
Glitnir will transfer a total of 635m euros ($829m; £527m), divided among the organisations affected.
Glitnir is the first Icelandic bank to pay creditors in full. Kent County Council was one of the biggest UK creditors, with £15m on deposit.
Among the other authorities that had large sums on deposit were City of Nottingham Unitary Authority (£11m), Gloucestershire County Council (£8.9m) and Surrey County Council (£9.3m), according to figures from Department of Communities and Local Government.
Officials in Nottingham said they received £9.2m on Thursday. However, the extra money will not make any difference to services as it is money kept in reserve, a spokesperson said.
Wholesale creditors, such as the local authorities, won a court ruling last April which designated them "priority creditors", which meant they had to be paid back in full.
Under the deal, 18% of the repayments will be made in Icelandic krona. That money will be held in a third party account in Iceland until it is cleared by the Icelandic central bank.
The Local Government Association, which helped negotiate the deal, said: "We are absolutely delighted that we have been able to help our members recover all of the £180m of council taxpayers' money from Glitnir.
"Today's payment brings the total amount recovered from Iceland's failed banks to nearly £560m, with more to come."
UK organisations also had money on deposit at Landsbanki and Heritable banks which have paid back some of the funds owed.
The UK government refunded individual investors in Icelandic banks and have been pursuing Icelandic authorities for compensation.
Icelandic crash
Iceland was bailed out by the International Monetary Fund (IMF) and its Nordic neighbours when its banking system collapsed in 2008.
On Thursday Iceland announced that it had repaid ahead of schedule 55.6bn krona (£280m; $443.4m) owed to the IMF.
Along with 60.5bn krona that it is repaying early to the Nordic countries Iceland is reducing its total debt by about one-fifth.
Iceland's Prime Minister Johanna Sigurdardottir says the krona is not working for Iceland and "we need to change currency".
"I think that those who say that the krona is all right are in denial," she said, quoted by the Icelandic newspaper Morgunbladid.
Her centre-left Social Democrat party favours joining the EU and the euro, and Iceland has started negotiations to do so.
The EU's Lisbon Treaty requires new member states to join the euro, though that process usually takes several years.
But opposition parties have not backed Ms Sigurdardottir's call and a referendum will be held eventually to decide whether Iceland joins the EU.
In a BBC interview, Ms Sigurdardottir's spokesman, Johann Hauksson, said the opposition Progressive Party favoured adopting the Canadian dollar, and that option had been discussed in parliament and the media.
But he said only about 2% of Iceland's trade was with Canada - dwarfed by Iceland's trade with the EU - so "it makes sense to be in the euro".
Iceland has capital controls to protect the krona, as the currency lost about 40% of its value when the banks collapsed.
"Everything imported got pricier, so it's very hard for households," Mr Hauksson said.
He added that Iceland would probably not hold a referendum on EU or euro membership in 2013, but later.