Business funding: Breedon warns of funding gap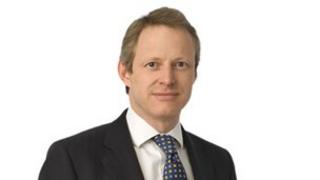 A government-appointed committee says access to finance for businesses needs to be improved or there could be a funding gap up to £190bn in five years.
The report comes ahead of next week's Budget, when there could be measures taken to boost funding of small firms.
The group led by Legal & General boss Tim Breedon is calling for a single agency to run all the government's programmes supporting small businesses.
It also wants a body to bundle small business loans and sell them.
"There is compelling evidence that access to finance is expected to become more acute as business confidence and growth returns, whilst continuing bank deleveraging is likely to leave a significant funding shortfall," said Tim Breedon.
'Straight no'
Small businesses in particular have complained about problems raising finance from the major UK banks in recent years.
Eagle Vending Services had been profitable for 10 years but suffered a setback in 2009 when a fire at a unit adjoining their warehouse caused a major disruption to their business.
The Kent-based firm, which supplies vending machines to factories and offices, needed some additional financing to help them recover and fund some new projects. But the banks would not help.
"We approached them on a couple of occasions and each time it's just been automatically rejected. Speaking to the business manager, he more or less said no straight from the start. They are just not interested," said Mike Steel, the managing director of Eagle Vending Services.
Mr Steel turned to an online service that matches borrowers to lenders. After going through the application process they received approval and were offered a loan for 3 years at an interest rate of 8.3%.
Commenting on the government's initiative he said: "There's definite need in the market for small business to get access to loans. There is business there. A lot of businesses just need some funding to expand or stabilise themselves in the market."
'Bold action'
The Breedon report predicts a funding gap of between £84bn and £191bn over the next five years.
Industry should establish a Business Finance Advice network that used the main accountancy bodies,according to the report.
It also recommends setting up a body that would bundle up loans to smaller and medium sized firms. Those loans could then be sold on, potentially attracting new money into the sector.
It also calls on bigger businesses to support smaller ones in ways such as the prompt payment of invoices.
"We need to reshape the UK's finance landscape to better serve the needs of ordinary businesses, helping more companies find the support they need to start and grow," said Business Secretary Vince Cable.
Earlier this month, Mr Cable said UK banks were "imperilling" the country's economic recovery by not lending enough to small and medium-sized businesses.
He had previously suggested that RBS should be split up to create a British business bank.
John Walker, head of the Federation of Small Businesses, said: "We very much welcome this report as the recommendations chime closely with changes the FSB has called for to open up finance for small businesses."
"Bold action needs to be taken to ensure a behavioural shift so that small firms know what alternatives to bank finance are available."