India uses budget speech to sound upbeat economic note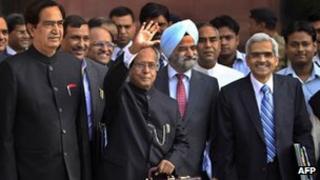 India's Finance Minister Pranab Mukherjee has unveiled the country's annual budget, saying that the economy is turning around.
He added that India would look to reduce subsidies, accelerate reforms and state asset sales and boost infrastructure spending.
The budget comes as the government's popularity has slumped due to a number of scandals and policy failures.
There were concerns it may sacrifice fiscal prudence in order to win votes.
"I don't see any populist schemes, but this not a reformist budget either," said A Prasanna of ICICI Securities in Mumbai.
"It is a status quo budget. I think the political compulsions made them decide that the best way is to play it safe," Reuters news agency quoted him as saying.
Recovery signs
The government's plans for development have been hampered by a slowdown in the economy.
During the last three months of 2011, India's economy grew at its slowest pace in three years.
Growth was 6.1% in the fiscal third quarter, though on Friday Mr Mukherjee explained that it was only a temporary slowdown.
He forecast that the economy would expand by 6.9% in the current fiscal year ending in March, with growth accelerating to 7.6% in the financial year running from 2012 to 2013.
"Though we have been able to limit the adverse impact of the slowdown in our economy, this year's performance has been disappointing," Mr Mukherjee said.
However, he explained that when compared to other nations "India still remains among the front-runners in economic growth".
He added that "there are signs of recovery in the coal, fertiliser, cement and electricity sectors".
Subsidy burden
While this is good news for many investors, it was Mr Mukherjee's attempt to tackle subsidy spending that is likely to gain the most attention, not least because government plans to raise rail fares announced on Wednesday provoked a political storm.
Currently, India spends almost 2.5% of its gross domestic product (GDP) on subsidies of goods such as fuel, food and fertilizer.
This has mainly been driven by an increase in crude oil costs amid problems in the Middle East and North Africa.
Mr Mukherjee said India would now look to cut subsidy spending to 1.7% of GDP from 2013.
The impact of the higher subsidy costs can be seen on the state of the government's finances.
The finance minister said that the budget deficit for the current year was expected to be 5.9%, much higher than the government's target of 4.6%.
This overshoot has prompted the government to say that it will take action to bring the deficit back down to more manageable levels. Mr Mukherjee forecast it would fall to 5.1% of the GDP in the next financial year.
The finance minister also focused on other economic indicators, adding that the rate of inflation was also expected to moderate in coming months.
"We are disappointed with the budget because it assumes a relatively high 5.1% deficit," Dariusz Kowalczyk, senior economist at Credit Agricole CIB in Hong Kong.
"We also think that growth target is a bit too optimistic, while inflation may have a hard time falling as much as they are assuming."
Too much?
Price rises have been one of the government's biggest headaches over the past couple of years, and have been a significant contributing factor to the voter discontent that was seen in recent state elections.
Inflation has forced India's central bank, the Reserve Bank of India (RBI), to raise interest rates 13 times since March 2010, pushing its main borrowing cost to 8.5%.
Many analysts have blamed the higher rates for slowing growth, and there are increasing calls for the central bank to cut rates in the coming months.
"It is clear the government is trying to come back to path of fiscal consolidation. And once inflation eases, it will provide RBI with space for acting on interest rates," said NS Venkatesh of IDBI Bank in Mumbai.
Mr Mukherjee also announced a number of other initiatives for the next financial year:
No change in corporate tax rates
Exemption limit on individual tax raised to 200,000 rupees ($4,000; £2,500)
Service tax raised to 12% from 10%
Defence spending increased by 18% to 1.94tn rupees
Full exemption on import duty of thermal coal for power plants
Customs duty on gold doubled
Disinvestment target set at 300bn rupees