China's BoCom bank raises $8.9bn in fresh capital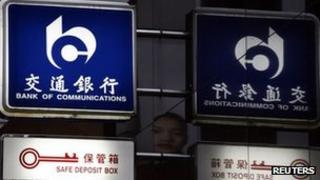 China's fifth-biggest lender Bank of Communications, known as BoCom, is raising money to meet new, tougher capital requirements.
BoCom is raising 56.6bn yuan ($8.9bn; £5.7bn) by selling shares to 12 institutional investors, including HSBC, which already owns 19% of BoCom.
BoCom previously had the lowest capital ratio of China's five biggest banks.
It is expected to be the start of a series of fundraising announcements from Chinese banks this year.
Other institutional investors putting money into the issue include China's Ministry of Finance, the national pension fund and two tobacco companies: Shanghai Haiyan and Yunnan Hongta.
Executives at BoCom said they did not expect to have to raise any more capital for the next three or four years.
BoCom shares are listed in both Hong Kong and Shanghai.