IMF rubber stamps 28bn euros for Greek bailout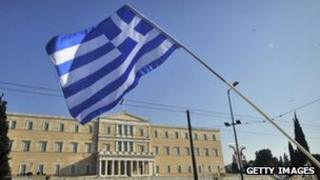 The International Monetary Fund (IMF) has agreed to pay 28bn euros ($36.7bn, £23.3bn) towards Greece's second bailout of 130bn euros after last week's private debt swap.
The body's approval - which was expected - is the final step in completing the long-awaited rescue fund for the eurozone's worst-hit country.
The IMF said it would pay 1.65bn euros of the money to Greece immediately.
The bailout is intended to help keep Greece funded until 2014.
The Greek Finance Minister, Evangelos Venizelos said the deal had changed the country's image: "We are back at the table, without being the scapegoats, and this is very important. It is a change in the developments of the crisis.
"The crisis is not over, we have before us many difficult issues. We must get through 2012, which will be a difficult year, we must get to 2013 which is the year for positive growth. (But) we have different conditions."
Adjustments
The IMF board's decision means Greece has now received approval from all of the bodies contributing funds.
On Wednesday, Jean-Claude Juncker, head of the eurogroup of finance ministers, said all eurozone countries had completed the necessary procedures to allow the release of the money to begin.
The first installment of 39.4bn euros will be released in several tranches, Mr Juncker said.
In order to receive the funds, Greece has been forced to push through a range of severe economic adjustments.
Greece implemented the biggest debt writedown in history on Monday, swapping the bulk of its privately held bonds with new ones worth less than half their original value.
The objective of the measures is to enable Greece to avoid a disruptive default and to make its government debt sustainable.
However, agreement on the second bailout has not put an end to concerns about the outlook for the Greek economy, which is suffering a very severe recession and still has a huge government debt burden, despite the deal with private sector lenders.
Some members of the IMF board are thought to be concerned that Greece might need more help, the BBC's global economics correspondent Andrew Walker says.