RBS sale 'better for everyone' says Hester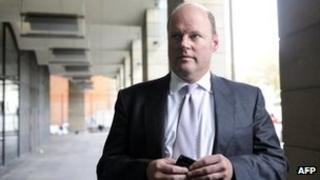 The chief executive of the Royal Bank of Scotland has said it will benefit all sides for the government to sell its stake in the bank.
"The faster the government starts selling its stake, the better for everyone," said the RBS boss.
The UK government owns 82% of the loss making bank.
Speaking at the annual conference of the British Chambers of Commerce (BCC) Mr Hester also defended his bank's lending record.
Lending
"We want to lend more. We have the balance sheet, funding and capital to lend, and indeed the future success of RBS requires that we do lend more," said Mr Hester.
The bank has chosen not to reveal whether it met its small business lending target agreed with the government under Project Merlin.
However the bank said that in 2011, gross new lending to business increased significantly and it accounted for almost half of all SME lending.
Mr Hester, who declined to take his £963,000 bonus after a row over his pay, said the bank does "make mistakes" when dealing with businesses but said the bank and the UK would not recover by "feeling sorry for ourselves".
Regarding the sale of the bank, Mr Hester added it was up to the government to decide the time.
The current RBS share price is almost half the 49p per share paid by the government when the bank was bailed out during the financial crisis.