Is Tesco past its British best?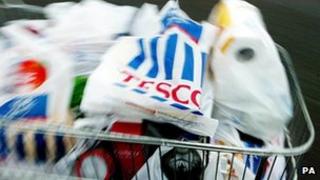 I was slightly surprised to see that Tesco's chief executive, Philip Clarke, is taking direct management control of the group's huge UK business - because when we talked in recent months one of his themes has been the importance he places on running this huge global business in a more devolved way than was the case under his redoubtable predecessor, Sir Terry Leahy.
His concern was that following Tesco's remarkable international expansion, any chief executive would be stretched too thin if trying to run everything - and so he would be delegating more authority to the bosses of the assorted regions.
Not any longer, in the important case of the UK. The head of the UK, Richard Brasher, is quitting - and Mr Clarke will be doing that UK job, on top of the global job, till the British operation is fixed.
Why the apparent change of approach?
Well, it is because - for all Tesco's striking success in growing in Eastern Europe and Asia - the UK still remains the huge heart of the company. And if the British business is not trouncing its competitors, which it hasn't been for a bit, it is quite difficult to view Tesco in the round as the kind of superstar business it once was.
Or to put it another way, Mr Clarke took the view at the beginning of the year that his priority was to fix the UK. He felt he had to immerse himself in this programme for recovery. Which, in Mr Brasher's view, left very little space for him.
According to Mr Clarke, Mr Brasher decided that the British operation couldn't have two bosses - and since there was very little chance of Mr Clarke deciding to quit, and there was no other job Mr Brasher wanted to do, Mr Brasher chose to see what opportunities are available outside Tesco.
For Mr Clarke of course the departure of Mr Brasher takes away a human shield: there is no nobody left for him to blame if the UK business isn't fixed.
It is striking that Tesco's share price has barely moved following Mr Brasher's resignation. But that's probably because the owners were already alive to the challenges faced by Tesco in Britain: its share price fell more than 20% in January, wiping more than £7bn off the group's value, after the disclosure that British profits growth would be held back by the costs of a massive regeneration programme; and the share price has languished ever since.
Having been in the job for a year, Mr Clarke inherited most of the current problem, which is why shareholders have been giving him the benefit of the doubt. That said, he took personal responsibility for Tesco's failure to match the price discounts offered by competitors in the run-up to Christmas.
In his words, he is now trying to cram a three-year overhaul into a year. That rehabilitation plan is still evolving, although we already know one expensive part of it: recruiting thousands more staff for the existing stores, to improve the quality of service.
Also Mr Clarke wants Tesco to have a much more substantial presence online and via tablets and smartphones. But we'll have to wait till April to know what he intends to do about the lacklustre performance of Tesco's biggest out-of-town stores
He is confident that Tesco in Britain can be revived. Which is not a view taken by all investors. One of the smartest I know thinks that, through no fault of Mr Clarke, Tesco is as big as it can get, with a market share of a third or a tenth (depending on how you define the market).
Businesses have a life cycle. Which is not to say that Tesco faces extinction. That would be a laughable notion. But as Marks & Spencer found in the 1990s, the distance between being the most formidable, feared business in the UK and a business perceived (rightly or wrongly) to be in serious decline is not a long one.