Welsh prioritise job creation over cost when awarding government contracts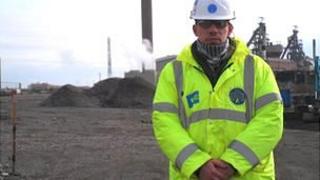 A pioneering approach to public sector contracts in Wales aims to put local people to work and boost a struggling economy. Are there lessons for the rest of the United Kingdom?
As Kerry Jones stands by his hut guarding the construction machinery on a new dual carriageway, he counts himself a lucky man.
Before he got the job as a security officer, he had been through ten months of torment on the dole.
"It was like a lifetime," he says. "I would wake up and do the same thing every day - phone companies, go on the internet.
"I must have applied for 150 jobs and only seven got back to me."
This seemed little thanks for the 17 years he had served in the Army.
Then Kerry saw an offer of jobs on a new road scheme in Port Talbot, in South Wales. The project was to link an industrial estate and the local steel works with the South Wales section of the M4 motorway. It was picturesquely called Harbour Way.
Putting community first
Last August, when he got the call telling him his application was successful, Kerry's life changed.
"It was amazing, a weight off my shoulders. I could look at my missus and feel like a man again," he tells Radio 4's File on 4 programme.
Kerry says he can now buy his children an ice-cream when they hear the van, without having to make excuses - but his good fortune was not a matter of chance.
The £107m ($170m) contract for Harbour Way does not just set out the terms for building the road and the price to be paid for it.
Importantly, it also commits the contractor Costain to "building the social and economic regeneration of the community" and forming an unemployment utilisation plan.
Each month, Costain's project manager is required to report to the Welsh Government and Port Talbot Council on how many local jobs and apprenticeships the company has created, how many people it has taken off the unemployment register, and how many local firms have been chosen to benefit as its sub-contractors.
Kerry is one of 27 long-term unemployed people recruited so far, and Welsh firms have won 91% of Harbour Way's many sub-contracts.
Most unusually, when the terms of the contract were set out in 2008, the Welsh Government decided that the prices set by rival bidders would be given only 20% weighting in the choice of a winner.
The dominant 80% would go to questions of quality, including the construction materials and design - and crucially the environmental, social and economic impact on the local area.
The British construction and engineering firm Costain won the contract, not because it offered the cheapest bid, but because it committed itself to this range of quality considerations.
The finance minister for the Welsh Government Jane Hutt defends this selection of priorities.
"We are moving away from the lowest price tender, to quality," she says.
"In Port Talbot this will help transform the area, provide housing and industrial opportunities as well as apprenticeships and jobs."
Cheaper imports
The decision to make price only 20% of the contract award criteria is defended by the finance minister on the grounds that she takes a broad view of economic value.
A cheaper bid could prove more costly in the long run if it led to more local people staying on benefits, or even caused the closure of small firms in the town.
When challenged that her prime duty to Welsh taxpayers is surely to get the lowest price, Jane Hutt responds firmly.
"Certainly not. We are trying to regenerate our economy here with a procurement policy which puts community benefits first."
This is in marked contrast to the view taken in other parts of the UK.
In Scotland, the SNP government has run into a wave of protest over a £790m ($1.25bn) contract it has awarded for the construction of a new road bridge stretching two miles across the Firth of Forth.
That decision also had to balance the price and quality of rival bids and came down in favour of a consortium which will import steel from Spain, Poland and China. The nearby steel works in Motherwell will not get a look-in.
Local campaigners point out the original Forth road bridge was built 50 years ago using 90% Scottish steel and they demand to know why the outcome is so different this time.
The answer is that the contract was awarded with no specification of local regeneration and with sub-contracting left entirely in the hands of the winning bidder.
The weight given to lowest price in awarding the contract was 92.5%, leaving only 7.5% for questions of quality. Opposition MSPs complain that, to date, only £20m ($31.8m) in sub-contracts has gone to Scottish firms.
Scottish Transport Minister Keith Brown says price is "extremely important".
"We live in extremely straitened times in terms of the public finances and it's our responsibility to make sure we get value for money," he said.
EU regulation
The rules laid down by the European Commission do not permit any public authority letting a contract to specify that the winning bid must come from a British firm.
Nor can they insist that economic advantages should be created in any particular geographical area.
But there is a wriggle-room, because the rules do allow officials to specify that a contract should create certain numbers of jobs, apprenticeships and small business opportunities, knowing that these are all most-likely to accrue to a particular place because of the localised nature of the work.
A former head of procurement in Whitehall, Peter Smith, says factors like economic regeneration rarely count for much in most UK contract decisions because officials fear they could be criticised if they go beyond immediate comparisons of price and materials.
"You don't want to be featured in Private Eye or challenged in court," he says.
"Most people still don't look too strongly at social factors. There is confusion about what is allowed under the European regulations."
The Cabinet Office Minister Francis Maude has criticised civil servants as "short-sighted and risk averse" in interpreting these rules.
He says that British businesses have lost out as a result. He currently has the whole process of contract-letting under review.
When asked if there was something he could learn from the policy adopted in Wales, he admitted that he does not know much about it, but said "that is an experience we will be glad to look at."
Listen to the full report on File on 4 on BBC Radio 4 on Tuesday 20 March at 20:00 GMT and Sunday 25 March at 17:00 GMT.
Listen again via the Radio 4 website or download the podcast.