Indian keeps interest rates stable amid inflation risk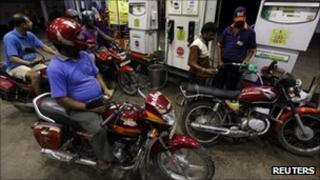 India's central bank has left interest rates unchanged, saying that inflation remains a risk despite a slowdown in the economy.
The Reserve Bank of India (RBI) left its key rate unchanged at 8.5%.
The decision came a day after data showed that consumer prices in India rose by 6.95% in February from a year earlier.
India's growth has slowed recently and the RBI hinted that it may cut rates soon to boost growth.
"Recent growth-inflation dynamics have prompted the Reserve Bank to indicate that no further tightening is required and that future actions will be towards lowering the rates," the banksaid in a statement.
"However, notwithstanding the deceleration in growth, inflation risks remain, which will influence both the timing and magnitude of future rate actions."
Budget guidance
India's economy grew by 6.1% during the last three months of 2011, the weakest pace of growth in nearly three years.
That had raised speculation that the central bank may cut rates to sustain growth going forward.
However, analyst said the RBI's decision to keep the rates steady for now may also have been influenced by the fact that the finance minister is scheduled to present the budget for the next financial year on Friday.
They said the central bank decision indicated that it wanted to see what growth policies and measures the government announces before reducing the cost of borrowing.
"Going by experience if the budget turns out to be populist, then we may see policy staying more accommodative, and which will keep inflation structurally high," said Rupa Rege Nitsure of Bank of Baroda.