UK warned again about possible credit rating downgrade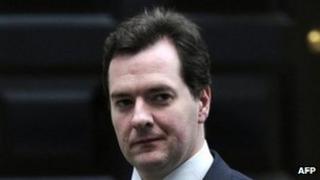 The Fitch credit ratings agency has joined Moody's and put the UK's top AAA rating on "negative outlook".
Fitch Ratings warned on Wednesday that it could downgrade the UK in the next few years if the government does not contain the level of public debt.
The warning comes as Chancellor George Osborne puts the finishing touches to this year's Budget, which will be delivered next week.
A credit rating in theory determines a country's borrowing costs.
In an interview with the BBC's World at One, Dave Riley, the head of global sovereign ratings at Fitch said: "There's really very little room for manoeuvre if there was an adverse shock."
"That bad news could come from Europe, but there's also an uncertainly about the overhang of personal and banking debt in the UK and whether that might mean a prolonged period of economic stagnation."
Fitch said the government had to stick to its austerity measures.
"We do think that it's very important that the government has in place a credible deficit reduction strategy."
"There isn't really room for manoeuvre, in terms of measures to try to boost the economy simply by increasing public spending, other than in the very short term."
"Certainly from our perspective, we don't think that would be consistent with the UK maintaining its AAA status," he said.
Chief Secretary to the Treasury Danny Alexander said the move underlined the need for the government to stick to its deficit reduction plans: "This is a salutary reminder as to why Britain needs to deal with the enormous debts and deficits we inherited, why we have got to stick to those plans."
He said there would be no unfunded giveaways in next week's Budget.
'Weathervane'
Shadow chancellor Ed Balls told the BBC's Newsnight programme Fitch's announcement showed that things were moving in a difficult direction for the economy.
"It shows that there's a growing worry that our economy's not growing, that unemployment's rising, that our borrowing's not coming down as George Osborne had planned.
"Now, I've said to George Osborne always, don't set your policies by the credit rating agencies, but they are a weathervane and they say the wind is blowing in a difficult direction for the British economy."
Fitch currently expects the country's public debt to stabilise at around 94% of its gross domestic product (GDP) by 2014-15.
If it does, Fitch will reaffirm the UK's rating as AAA.
It emerged this week that Mr Osborne was considering using the UK's top rating status to tap into cheap, very long-term borrowing.
One month ago, Fitch's rival agency Moody's sparked debate about the UK's rating after it said it was watching the UK's credit worthiness.
The other leading agency, Standard and Poor's, still has the UK on AAA, with no warning of a possible future downgrade.