Mortgage holders face fix or twist decision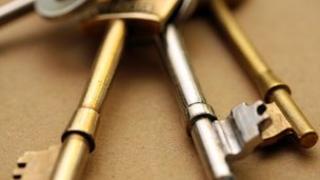 Faced with a slew of lenders raising their standard variable mortgage rates, some homeowners will be questioning whether to fix or twist.
The standard variable rate (SVR) is arbitrarily set by each individual lender, taking into account the Bank of England base rate, the cost of funding mortgages and the balance between savers and borrowers.
Over the last few years there has been a "clear trend", according to the Council of Mortgage Lenders (CML), for homeowners to revert to the SVR.
This means that when the term of their fixed-rate deal - which offers a certain monthly bill - comes to an end, they switch to the often cheaper SVR rather than remortgage onto another fixed-rate deal.
In recent weeks, three major lenders have announced that they will be raising their SVRs.
These are:
The Halifax, which will raise its SVR from 3.5% to 3.99% on 1 May
The Bank of Ireland's UK arm, which includes Bristol and West, which will put up its SVR from 2.99% to 3.99% in June, then increase it again to 4.49% in September
Clydesdale and Yorkshire banks, which will raise their SVR from 4.59% to 4.95% on 1 May
Collectively, this will lead to a million households seeing their mortgage bill rise this summer. If they have a £100,000 loan, they could see about £30 a month added to their bill.
Unless, of course, they choose to change their mortgage set-up.
Will they fix, by moving to a fixed-rate deal, or twist by sticking with the SVR and betting on it remaining at a relatively low level?
So what are their options?
Remortgaging or switching
People who see their SVR rising, and expect it to do so again in the near future, may decide to remortgage with the same lender or a rival.
"Most people understand that the low-rate environment that we are currently in is unusual, and everyone should be planning ahead to ensure that they adjust their spending to meet their commitments if and when rates rise," says a spokesman for the CML.
"Remortgaging to a fixed rate may be appropriate for customers whose financial situation enables them to remortgage but who do not want the uncertainty of future rate rises."
Homeowners would tend to ask their current lender what deals would be on offer in their circumstances, before comparing that with the rest of the market - perhaps using the services of an independent mortgage broker.
There are fees involved, such as a product fee from the new lender than could range between £400 and £2,000. There is usually a closing fee of about £200 although, for example, Clydesdale and Yorkshire banks are waiving their exit fee for customers affected by the SVR rise who wish to remortgage with another provider.
Yet, for some, there is a major snag.
Property values have dropped by more than 10% from their peak. This has left some homeowners in negative equity - where their outstanding home loan is bigger than the value of their house.
These people might find that their choice of deals for remortgaging is very slim, and very expensive, says Andrew Montlake of mortgage brokers Coreco.
At the limit, they could find it impossible to find a lender willing to offer them a remortgage deal at all. Most would be stuck with their existing provider.
Paying early
People who have seen the value of their home drop below the value of the loan might consider paying off that loan quicker, to open up other deals.
The advantage of being on an SVR for these people is that there are usually no charges or penalties for paying more each month than is on their bill.
The only people who might be charged for overpaying are those who were on a discounted rate when they first took out their mortgage.
Mr Montlake suggests that anyone considering this option should always check with their lender about penalties.
Staying put
Hundreds of thousands of people are on SVR rates with various lenders. The industry is keen to stress that interest rates charged to these people remain comparatively cheap.
There is, in fact, quite a difference across different providers. Moneyfacts, the financial information service, says that the SVR for existing borrowers ranges from 2.5% to 6.08%.
Bank of England figures show that the average SVR at the end of February was 4.17%. The CML says that this remains relatively low by historical standards.
"Many people will remember paying mortgage rates of 14% or 15%, and the average mortgage rate over the past 30 years is 8.35%," a CML spokesman says.
The view among many mortgage brokers is that Halifax and Bank of Ireland, by increasing their rates, were merely catching up with other lenders, as their SVR rates had not changed for so long.
Mr Montlake says that any other moves by lenders to increase their SVR would be seen as controversial, and taking rates to a new level. Sticking to an SVR is still very convenient for many borrowers, he says.
Ray Boulger, of mortgage brokers John Charcol, says: "A general upward movement in SVRs is unlikely until Bank rate changes, which looks set to be at least two years away."
The state of the UK economy and the future of the eurozone will also affect the cost of mortgages. As a result, nobody can be certain about when rates might change.