E-traders face tax investigations by HMRC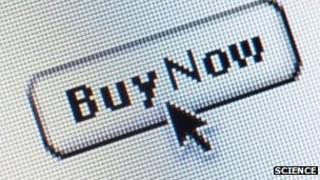 People who trade on the internet are being targeted in HM Revenue and Customs' latest focus on unpaid tax.
Online marketplace traders must come forward to admit any unpaid tax or face harsher penalties.
The clampdown follows other campaigns targeting doctors, plumbers, dentists and tutors.
One taxation trade body has said that the UK tax authority should have a general campaign on unpaid tax, rather than hitting individual sectors.
Deadlines
E-traders who have not paid tax need to contact HMRC by 14 June to tell them they intend to come clean. The amounts to be paid should then be disclosed by 14 September.
Anyone doing so would either avoid a fine or be ordered to pay a penalty of no more than 10% of the tax due.
Traders subsequently found to have dodged paying tax will face fines of up to 100% of the tax owed, or face a criminal investigation.
"This campaign is aimed at people using online marketplaces to buy and sell goods as a trade or business and who fail to pay the tax owed," said Marian Wilson, head of HMRC campaigns.
"Those who only sell a few items and who are not traders are unlikely to be liable to pay tax on what they sell and will not be targeted by this campaign."
'Too narrow'
Those who traded online with the aim of making a profit would be in the firing line, according to Paul Harrison, tax partner at accountants KPMG.
"The reality is that only a small percentage of people using these sites will be classed as trading by HMRC, but the tax they owe could be significant," he said.
The Chartered Institute of Taxation (CIOT) said that this was the third targeted campaign of the year so far by HMRC and should be made into a general appeal for people to confess about unpaid tax.
"There is a danger that the conveyor belt of disclosure facilities aimed at different groups will make others who wish to get their tax arrears in order wonder whether they should wait for 'their' opportunity," said Gary Ashford, from the CIOT.
"There is a risk that HMRC are missing the big picture. Rather than continuing to launch different targeted campaigns every few weeks, HMRC should focus their efforts on a big national campaign open to all taxpayers whose tax affairs are not up to date."