Goldman Sachs director in London quits 'toxic' bank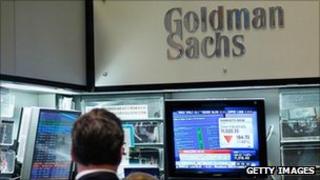 A manager at US banking giant Goldman Sachs in London has quit, saying he could no longer work there "in good conscience".
Greg Smith, who headed Goldman's equity derivatives business in Europe, said it was common to hear talk of ripping off their "muppet" clients.
"The environment now is as toxic and destructive as I have ever seen it," he wrote inthe New York Times.
Goldman said it disagreed with what Mr Smith wrote.
"We disagree with the views expressed, which we don't think reflect the way we run our business," a Goldman spokeswoman said.
"In our view, we will only be successful if our clients are successful. This fundamental truth lies at the heart of how we conduct ourselves."
Mr Smith said in his editorial that he appeared in Goldman's recruitment video, shown at universities around the world.
"I knew it was time to leave when I realised I could no longer look students in the eye and tell them what a great place this was to work," he wrote.
"It makes me ill how callously people talk about ripping their clients off. Over the last 12 months I have seen five different managing directors refer to their own clients as 'muppets', sometimes over internal email."
'He's toast'
BBC business editor Robert Peston describes Mr Smith's comments as a "lament of an investment banker who joined the firm just under 12 years ago filled with idealistic enthusiasm".
"I've been watching Goldman for more than 20 years, and I'm not persuaded it was ever the co-op Mr Smith seems to think he joined," our correspondent says.
Even as an executive director, Mr Smith still had an estimated 2,000 managing directors and partners above him in the pecking order.
Bill Cohan, a former investment banker and author of a book on Goldman Sachs, said Mr Smith would know how the Wall Street giant treated clients in his division. But he questioned "whether or not he understands the Goldman strategy overall".
"He's not on the management committee or even a partner of the firm," Mr Cohan told Bloomberg TV.
"He's toast. He is completely toast in terms of Wall Street, no question about that," he added.
'Vampire squid'
Following the financial crisis, Goldman was among those bailed out by the US taxpayer and came under fire for its business practices, including accusations that it helped Greece hide some of its massive debts.
Rolling Stone magazine once likened Goldman to "a vampire squid wrapped round the face of humanity".
But the bank has denied any wrongdoing.
Famously, chief executive Lloyd Blankfein once told the Sunday Times that banks were "doing God's work", a phrase which made headlines around the world - but was meant as a joke.
The Securities and Exchange Commission (SEC) opened a fraud investigation in 2010 over the marketing of mortgage investments as the US housing market faltered.
These featured emails from trader Fabrice Tourre saying that "the entire system is about to crumble any moment" in 2007.
Goldman Sachs agreed to pay $550m (£356m) to settle civil fraud charges of misleading investors in 2010 - the biggest fine for a bank in the SEC's history.
Goldman was also fined £17.5m by the UK's financial regulator, the Financial Services Authority, for failing to tell it that the bank was being investigated by the SEC.