UK unemployment: 'I applied for 1,639 jobs'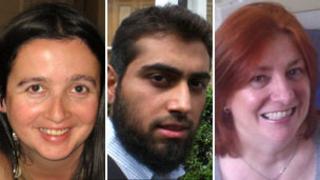 UK unemployment rose by 28,000 to 2.67 million during the three months to January, according to figures from the Office for National Statistics (ONS).
Youth unemployment, amongst 16 to 24-year-olds, rose by 16,000 to 1.042m, a rate of 22.5%. However, the rise in unemployment was the lowest in almost a year.
BBC News website readers have been sharing their experiences.
Geoff, Kent
Up until 2010 I had a 100% employment record, and then in 2010, 5,000 staff were cut from the company I was working for.
I was unemployed for a year and during that time I applied for 1,639 jobs.
I finally found a job in September 2011 in the City working in litigation support and finance investigation.
I recruited my own replacement after I was offered what I thought was a very good job in February this year, working for a computer company.
However, despite having a contract of employment, a start date, and welcome messages from the new company, less than two days before my start date they withdrew their offer. The result? I am unemployed again.
No jobs have come up since then. I have paid into the system all my life, and as I have saved to take care of my family, I can't claim any benefits other than Jobseeker's Allowance. Is that fair?
I am a middle-aged man, a university graduate, and I have served 21 years as a police officer. It makes my blood boil.
My wife is recovering from cancer and our two boys are at school. We are in a dire situation.
Kate Dodd, Crewe
It is not just youth unemployment that is the problem. Women who are over 50 struggle too.
I am fed up of hearing about unemployed young people - what about the over 50s who, like me, have contributed for 35 years, are taxed at 40% and are shunned by HR departments?
There are no training courses for older people. I've recently been to Manchester Metropolitan University to study business management.
After three months I gave up my course to find work, as my husband had been made redundant.
As my husband does a bit of consulting work I can't claim Jobseeker's Allowance, and I have been job hunting for 12 months.
I have been to assessment centres and I found one of them incredibly ageist.
They asked me if I would be able to change the way I already did things, and in the end they took on a 24-year-old with no experience at all.
There is a local B&Q which I am considering applying to, but I may not have any luck there as they take on a lot of older people meaning there is more competition for jobs.
Over 50s unemployment is here to stay and women are suffering the worst.
Basil Tungekar, London
I am 30, have been unemployed for more than seven months, and haven't claimed Jobseeker's Allowance.
I gained a Masters in Computer Science in 2004. I have had a few posts in software development and a few teaching contracts since I graduated.
I find with recruitment agencies that it is easy to get interviews but it is difficult to show specific experience on the CV.
I'm from East London and I've been looking for jobs all over, as far away as Wales.
I know eight people who have gone abroad and got jobs in countries including the Middle East and Hong Kong.
My brother went to America as he wasn't finding any work here, and now he has a job in recruitment over there.
Most jobs I apply for demand experience, hence it is a catch-22. I cannot see the situation improving unless the government implements large-scale labour reforms.
Michelle Cambridge, Wolverhampton
My mother-in-law and sister have been out of work since last July, despite trying hard to be re-employed.
I can't return to work because my area of work has dried up and they are not recruiting.
I left my NHS job as an analyst in 2008 as I was pregnant. I am hoping to jump back into the workplace but there are no opportunities.
I looked for work recently. The nearest NHS job was in Lincolnshire, and I live in Wolverhampton [around 120 miles].
I do have transferable skills but my knowledge set is specific to the NHS.
The women in my family are particularly affected. My mother-in-law was a manager in a bakery and now she can't find a job in the food industry.
My sister specialises in the museum industry and even though she has applied outside this industry she hasn't found a job. She has a lot of qualifications.
I am sure my experience mirrors those of women and their families up and down the country.