Profits plunge 61% at Hong Kong's Cathay Pacific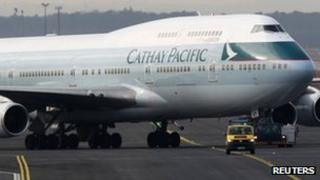 Profits at Cathay Pacific have plunged 61% from a year earlier, as global economic uncertainty hit demand for passenger travel and cargo shipments.
The airline made 5.5bn Hong Kong dollars ($700m; £450m) in 2011, compared with HK$14bn in 2010, when it was one of the world's most profitable airlines.
Rising jet fuel prices also hurt the airline's performance.
It warned that the outlook for 2012 was "even more challenging".
Cathay chairman Christopher Pratt said that the airline was hurt by instability and uncertainty in the world's major economies.
He said that slowing demand for exports from China had hurt its cargo business, while its economy class services were also under pressure. Business class had performed better.
"Economic uncertainties have continued into the first half of this year. While these uncertainties continue, we expect pressure on economy class yields and our cargo business in particular to remain weak," Mr Pratt said in a statement.
"As a result, 2012 is looking even more challenging than 2011 and we are therefore cautious about prospects for this year."
He added that the earthquake and tsunami in Japan, floods in Thailand and unrest in the Middle East had reduced passenger numbers on those routes.
The dive in profits sent the company's shares lower. In afternoon trade, they were down 3% at HK$15.14.
Positive signs
Jim Wong, an analyst at Nomura in Hong Kong, said that although Cathay's earnings looked poor in comparison with 2010, the airline had held up well and he said that cargo loads could improve in the second half of this year.
"I think there are some positive signs for air cargo as the US and global economy progressively recover," he told the BBC.
"We're seeing more orders from the US for things like iPads."
Cathay said that passenger numbers were up in 2011 on the year before, but its planes were less full, because the airline had expanded its fleet.
The airline's fuel costs rose by 44% in 2011, although hedging mitigated some of the increase, it said.
Cathay Pacific, which also owns China-focused Dragonair and has a stake in Air China, faces increased competition in its home market from Hong Kong Airlines, which launched all-business class flights to London in March.
The full-year profit figures came in below analysts' expectations of HK$5.8bn.