Kingfisher Airlines 'curtails' international flights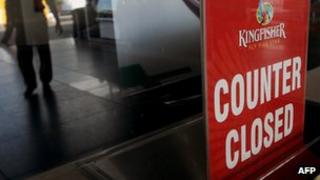 Kingfisher Airlines has said that it is "curtailing" its international flights in a bid to cut costs amid a shortage of airline crew.
The move comes as some staff have gone on strike because of unpaid wages.
At the same time, its accounts have been frozen by authorities for non-payment of taxes, resulting in cash-flow problems for the carrier.
The Indian airline flies to eight overseas destinations, including London and Singapore.
"We would like to confirm that we are curtailing our wide-body overseas operations that are bleeding heavily," Kingfisher said in a statement.
"Positive and immediate action is being taken on all fronts to cut costs."
However, the airline did not say how many flights or which of its international routes were affected by the decision.
Foreign interest?
The airline, which has never made a profit since being launched in 2005, saw its losses widen in the October-to-December quarter, raising concerns about its future.
It made a loss of 4.44bn rupees ($90m; £57m) during the period, compared with 2.54bn rupees a year earlier.
Amid growing losses and trouble with the authorities, the firm's operations have been hampered because it has been finding it tough to convince its lenders to give it more money.
However, there has been speculation that some foreign companies or a foreign airline may invest money in Kingfisher and help bail out the troubled carrier.
Kingfisher said it was in talks with interested parties, but was waiting for the government's decision on foreign direct investment limits in the sector.
"We can confirm that there is interest from prospectives on this basis."