China to allow the yuan to float more freely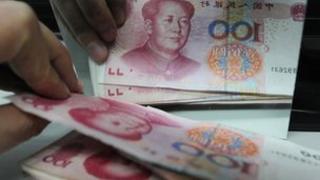 China has said it will allow the yuan to float more freely as part of its efforts to reform currency policy.
The move comes as China has been facing pressure from its trading partners to let the yuan appreciate.
Beijing has been accused of keeping the value of its currency artificially low to help its exporters.
While Premier Wen Jiabao said Beijing will push for reforms, he added that the yuan's value may already be close to an optimum level.
"We will step-up exchange rate reforms, especially in increasing two-way fluctuations," premier Wen Jiabao said on the last day of the National People's Congress meeting.
"In the Hong Kong market, NDFs (non-deliverable forwards) have started to fluctuate both ways. This tells us the yuan is possibly near a balanced level."
'No point in predicting'
China, which for many years pegged its currency to the US dollar, began to allow the yuan to appreciate in 2005, but in a very measured way.
It has risen by almost 8% in the past 24 months against the US currency.
However, China's trading partners as well as currency analysts continue to maintain that despite the rise, the yuan is still undervalued. This, critics believe, gives China an unfair advantage in international trade.
"The currency has come a long way. But is still has a fair way to go," Sean Callow of Westpac told the BBC.
Meanwhile, China has said that while it was willing to let the yuan appreciate, a sudden rise in its value will hurt its export sector, which is already facing a tough time as key markets in the US and eurozone experience sluggish growth.
The fear for China is that a strong currency will make its goods more expensive to foreign buyers.
At the same time, profits of manufacturers may also be dented when they repatriate their foreign earnings back home.
Analysts said that until Beijing feels absolutely secure about the impact of a stronger yuan on the export and manufacturing sectors, it may continue to keep tight controls on the currency's trade.
"We have heard it so many times that there is no point in predicting when it will happen," Mr Callow said.
Broader role
Wednesday's announcement is being seen by some as another step in China's efforts to promote a more international role for the yuan.
Beijing wants the yuan to be an alternative global reserve currency to the US dollar, which analysts say will only be possible once the yuan is fully convertible. China has taken various steps in recent months to loosen its grip on the currency.
Last year, Beijing agreed a deal with Japan, its biggest trading partner, to allow a direct exchange of respective currencies without first converting them to the US dollar.
It has also approved a plan to allow one of China's largest asset managers, to offer its Hong Kong customers the option of investing in the yuan directly by buying stocks and bonds on the mainland.
Analysts said while these were key steps, China still needed to open up its markets further.
"You still have a very limited range of products to choose from if you want to invest in China," said Westpac's Mr Callow.
"They still need to do much, much more, if they want to be a real player in the global market."