RBS and Lloyds detail 1,900 job cuts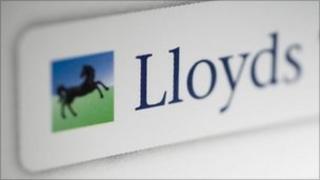 The part state-owned banks RBS and Lloyds have announced they will cut 1,900 jobs between them.
Lloyds, which is 40% owned by the taxpayer, said it would shed 1,600 posts as part of its plan to cut its workforce by 15,000.
RBS, which is more than 80% owned by the taxpayer, is cutting 460 jobs, leaving it with a net loss of 300 posts as it is creating 150 elsewhere.
The Unite trade union said it had asked the government to intervene.
Lloyds has plans to halve its international presence and this move is part of that.
Both banks said they would try to keep compulsory redundancies at a minimum.
The Unite union said it had written to UKFI - the organisation set up by the government to manage the taxpayer's bank holdings. UKFI had no immediate response.
The government bailed out both banks during the 2008 credit crisis.
Since the start of the financial crisis, Lloyds has shed around 30,000 posts through the headcount reduction plan and the integration of its HBOS business.
Unite national officer David Fleming said: "How can there be any justification for the government not intervening as these much needed jobs are lost from our struggling economy?"
The job losses at RBS will be from its private banking operations. The company said: "We are working hard to rebuild RBS in order to repay taxpayers for their support and having to cut jobs is the most difficult part of this process."
Lloyds said that of the 1,600 affected positions, it was transferring some 300 workers over to its suppliers, meaning that they would still have a job, while 300 of these are being offshored to India.
The bank said the job losses would come from its group operations, executive functions, wholesale and insurance divisions.
RBS's chief executive, Stephen Hester, warned at its recent last set of annual results that there could be further job losses.
Meanwhile, Lloyds is targeting £1.5bn in annual savings by 2014.