Kia grows in shrinking European market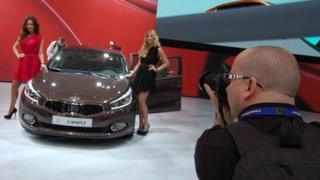 Growing in a shrinking market is always difficult, especially without offering major discounts.
Yet that is exactly what the South Korean carmaker Kia is doing in Europe, at a time when an economic storm is sweeping the continent.
"We grew 12% across Western Europe, while the market as a whole fell 1.5-2%," says Kia Europe's chief operating officer, Paul Philpott.
"And this year has started well, with sales rising 31% during the first two months," he continues, "even though pricing levels are higher than they have been."
Kia's strength is impressive, say analysts, not least since the overall car market in Europe is expected to shrink some 5.5-6% this year.
Kia, meanwhile, is gunning for 20% growth in Europe to more than 350,000 cars, Mr Philpott declares.
"So 2012 will be another record year for Kia in Europe," he says.
Image and quality
The sales growth is taking place even though Kia has raised its prices by an average 2.5% each year for three years now, gradually shifting the focus away from undercutting its rivals towards head-on competition.
"Kia's quality is now comparable with many of the Japanese or European players," according to KPMG automotive analyst John Leech.
IHS Global Insight automotive analyst Paul Newton agrees.
"In Europe, Kia is beginning to compete with the likes of Ford, General Motors and Volkswagen, on brand image and quality rather than price alone," he says.
Strong demand for the Sportage, a small sports utility vehicle, as well as for Kia's Rio and Picanto models helped bolster sales last year.
And the carmaker's second-generation Ceed, which had its world debut at the Geneva motor show this month, is a clear indication of the way the carmaker has matured in the European market.
"The model is another attempt by Kia to raise its brand image and quality perception as it ventures up the price point," Mr Newton observes.
"Kia is banking on the new Ceed to push its sales further in Europe."
Ride and handling
Kia has been building the Ceedin its factory in Zilina, Slovakia, for just more than five years, as the marque's first major challenge to Europe's indigenous motor industry, and it has been its best-selling model ever since.
But the Ceed is not merely built in Europe; it was also penned here, in Kia's design centre in Frankfurt, Germany, and it has been engineered to make sure it can handle European roads.
"We've worked hard on ride and handling," says Mr Philpott.
"It's essential if we're to compete with the Volkswagen Golf.
"And I think we are becoming well accepted. It goes to prove what can be done when you have good products."
Not upmarket
Good economics helps too, and the Ceed's success has helped with this. The Zilina factory was a single shift operation when production first started there in 2005-6, with a second shift added in 2008-9, and a third shift has just been added.
This is in line with Kia's goal of using its strength in the mass market to reach critical mass and push costs lower by utilising capacity fully.
"Kia's costs are lower - much lower - than that of their rivals," according to KPMG's Mr Leech, "so its profitability is fantastic."
The next step is to design cars that are more sporty than Kia's current fleet, as the carmaker seeks to spark emotional responses from its otherwise cool-headed, rational customers.
Two things will drive the marque's image, Mr Philpott says, namely "design and marketing" - though the carmaker is not about to challenge profitable players in the luxury car market by trying to push the Kia brand upmarket.
"I don't think it's right for Kia to go premium," Mr Philpott says.
The Geneva motor show is open for the public from 8-18 March.