Tesco imposes higher pension age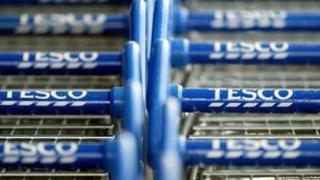 The UK's largest supermarket chain has told 172,000 staff that their pension scheme will become less generous.
Tesco has announced changes to the way its pension scheme is calculated from 1 June.
Full pension benefits will not be paid until two years later than present, while the way inflation is taken into account will be changed.
The retailer said that the move was "essential" to ensure that the scheme was sustainable.
"Importantly, the changes do not affect the pensions staff have already built up, they do not require colleagues to work for longer and their contributions will stay the same," a Tesco spokesman said.
Some 60% of the Tesco workforce - 172,000 members of staff - contribute to its pension scheme.
Details
The changes have been proposed following a review of the supermarket chain's career-average scheme.
Tesco said that, for service after 1 June, the full pension benefit would not be paid until 67, rather than 65.
Staff would still have the choice to retire at any age from 55, although there would be deductions to their payments as a result.
The uprating of pensions from 1 June - to take the rising cost of living into account - will use the Consumer Prices Index (CPI) measure of inflation, rather than the more generous Retail Prices Index (RPI).
This increase will be capped at 5%, the same level as at present.
A number of companies have made similar changes to their pension schemes, while some have gone further by closing their defined-benefit schemes altogether and switching staff to one where their pension pot is at the mercy of investments.