UK trade gap less than expected in January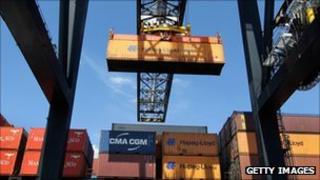 The UK's trade deficit was less than expected in January, thanks to strong exports of cars to the US, China and Russia, official figures have shown.
The deficit on seasonally adjusted trade in goods and services was £1.8bn in the first month of the year, compared with £1.2bn in December.
Car exports from the UK in January were worth £531m more than in December.
The UK's goods trade deficit widened to £7.5bn in January, while the services surplus narrowed to £5.8bn.
The goods deficit compares with £7.2bn in December, while the services surplus in the last month of 2011 was £6bn.
'Recession avoided'
David Kern, chief economist at the British Chambers of Commerce, said: "Taking monthly fluctuations into account, the figures confirm a steady improvement in Britain's trading position, although progress is not as strong as it should be.
"Exports are growing more quickly than imports, and it is reassuring that the economy is gradually rebalancing.
"These figures support our belief that the economy returned to positive growth in the first quarter of the year, and a new recession will be avoided."
However, Mr Kern also cautioned that "the road ahead will be difficult".
He said: Given the problems facing the global economy and the debt crisis in the eurozone, British exporters still face huge challenges to maintain their position in international markets."