Tablet computers added to UK inflation basket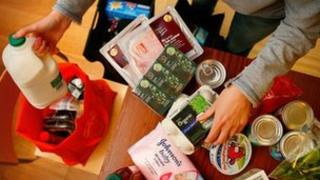 Tablet computers, fiction books for teenagers and cans of stout are being put in the basket of goods used to calculate the UK's rate of inflation.
Items dropped from the basket include the cost of developing colour film.
The Office for National Statistics (ONS) updates the basket each year so the contents accurately reflect current trends in spending.
The basket contains 700 items, with 180,000 individual prices collected each month.
"Tablets have been added as they represent a significant and growing market," the ONS said.
"Fiction was previously covered by children's and adult books, but with the growing popularity of many titles aimed specifically at teenagers, this new item has been added to the basket.
"However, charges for developing and printing colour film are being removed as the popularity of digital cameras means fewer and fewer people are using analogue cameras," the ONS added.
In January, the Consumer Prices Index (CPI) measure of inflation fell to 3.6% and the Retail Prices Index (RPI) dropped to 3.9%.
In and out
The basket of goods is not changed just because spending on individual items has fallen or risen.
Changes are made to broaden or widen the coverage of a particular group of items.
So pineapples are in this year, to give more varied coverage of volatile price movements for fruit and vegetables.
Other categories have been changed simply to make them more representative.
Hot oat cereals are in to broaden the category of bread and cereals; continental soft cheese has been added to the milk, cheese and eggs category; and cans of stout have been added to widen the range of beers in the basket.
"In each of these cases, the item has not been added because spending has increased or because the product is new on the market," the ONS said.
"It is purely as part of the rebalancing of the basket to improve its representation of overall price change."
In addition, the costs of vehicle excise duty, TV licences and trade union and professional subscriptions, which are used to work out the RPI, will now also be used to calculate the CPI, in line with European statistical standards.