Volkswagen says sales could hit another record in 2012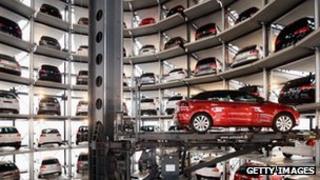 Car giant Volkswagen has said 2012 could be another record year, with vehicle sales possibly surpassing last year's total of 8.3 million.
VW also said 2012 profits could match last year's, when net profit hit 15.8bn euros ($21.2bn; £13.4bn), double the surplus it made in 2010.
VW aims to become the world's biggest and most profitable carmaker by 2018.
The record year triggered a huge payout for VW chief Martin Winterkorn, who made 17.5m euros in salary and bonuses.
This was also almost double the amount he took home in 2010.
"We remain on track on our way to the top of the automotive industry," Mr Winterkorn said in a statement in the2011 results.
VW has seen strong growth in emerging makers, including India, China and Latin America.
Mr Winterkorn said: "In Europe, China and South America the Volkswagen group already today is the number one. In the other regions too we are continuously getting more market shares.
"In the United States for example, the Volkswagen brand achieved an increase of more than 42% and just had its best month of February in the last 40 years."
The Audi brand had a particularly strong year. With an operating profit of 5.3bn euros last year, it was Volkswagen's most profitable brand.
VW plans to spend 62bn euros on new plants and research and development over the next six years. It will also hire 50,000 more staff.