Aviation plea to leaders over EU price on carbon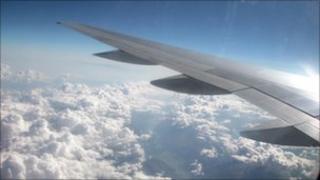 Seven European aviation firms have written to governments complaining about the inclusion of airlines in the EU's Emissions Trading Scheme (ETS).
The signatories, which include Airbus, British Airways and Virgin Atlantic, argue the move threatens jobs.
They are concerned about trade retaliation by countries not complying with the ETS, which puts a cost on carbon emissions beyond set limits.
China and the US both oppose the move.
"The measure is threatening more than 1,000 jobs (at Airbus) and another thousand through the supply chain," Airbus chief executive Thomas Enders is quoted as saying.
The boss of EADS, the parent company of Airbus, Louis Gallois told reporters last week that China had suspended the purchase of planes made by European manufacturers because of the levy.
"The ETS issue... is turning into a trade conflict," an Airbus spokesman told the Financial Times.
Resistance
In a draft of the letter seen by the BBC, the companies urge politicians to pursue a "compromise solution... which will mitigate third-country concerns whilst protecting the environmental integrity of the EU Emissions Trading Scheme".
They believe that the proposals should be put on hold until a global plan for carbon emissions is agreed.
"Trying to impose a scheme on flights outside of Europe risks retaliatory action against EU airlines and EU trade at a time when the European economy is under severe pressure," a spokesperson from BA said in a statement.
"The amount of resistance to the EU's plans shows that the European Commission needs a Plan B in case there is retaliatory action," the statement goes on to say.
The European Union has gone it alone with its ETS, which levies a charge on flights in EU airspace based on carbon emissions.
The opposition campaign is being led by Airbus and has the support of the chief executives of British Airways, Virgin Atlantic, Lufthansa, Air France, Air Berlin and Iberia.
Letters have been sent to leaders including Britain's David Cameron, Germany's Angela Merkel and France's Francois Fillon.