Carnival posts loss on Costa Concordia sinking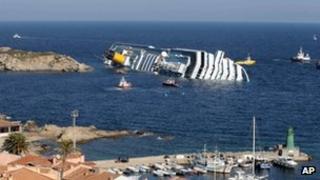 Carnival has warned that the sinking of the Costa Concordia cruise ship could wipe out its profits this year.
At least 30 people are believed to have died in the disaster, which Carnival says could reduce profits by as much as 82% this year.
In the quarter to 29 February, it lost $139m (£83.6m) compared to a $152m profit in the same period last year.
Carnival's problems were exacerbated when another Costa ship, the Allegra, had to be towed ashore last month.
Costa Cruises is a subsidiary of Carnival and runs 14 of the company's total fleet of 101 ships. Other brands include Carnival, P&O, Cunard, Holland America, Princess and Seabourn.
The company said that bookings improved as media coverage of the disaster declined.
It said that booking volumes for the Costa line are running "significantly behind" the same period last year.