Barclays chief Bob Diamond 'not bank's top earner'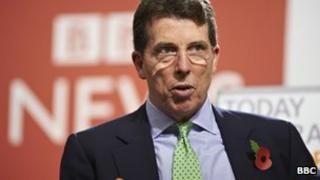 Barclays chief executive Bob Diamond earned £6.3m in pay and bonuses in 2011, but was not the bank's top earner.
According to the bank's latest annual report, Mr Diamond's pay package last year included a bonus of £2.7m.
However, its highest paid executive - not identified - received £6.7m.
Meanwhile, the two bailed-out UK banks - Lloyds and Royal Bank of Scotland - paid their top eight employees £16m and £19.8m, respectively, in 2011.
The highest-paid RBS staff member is Ellen Alemany, who heads the firm's US business, according to the BBC's business editor Robert Peston.
She was paid £4.7m in 2011.
In January, RBS chief executive Stephen Hester waived his £963,000 bonus following an outcry from MPs.
RBS is 82%-owned by the taxpayer.
Lloyds, which is 40% state-owned, revealed that the highest earner in its top eight in 2011 took home £2.8m in pay and bonuses.
Chief executive Antonio Horta-Osorio relinquished his bonus in January following a two-month leave of absence due to stress.
Lloyds made a loss of £3.5bn for the year to 31 December.
Less than 2010
The £2.7m bonus paid to Barclays' Mr Diamond is less than half the £6.5m bonus paid to him for 2010.
The chief executive's total pay includes a £1.35m salary, a bonus of £2.7m and long-term incentives of £2.2m.
The £6.3m pay package for 2011 compares with the £9m pay and bonuses paid to Mr Diamond for the 2010 financial year.
But our business editor noted that Mr Diamond may actually be paid significantly more.
"Mr Diamond has been awarded the opportunity to earn £6.75m from the group's long-term incentive plan," he said.
"Some analysts will definitely therefore argue that Barclays is understating what Mr Diamond and others may end up earning."
Barclays has repeatedly defended its right to pay bonuses because it, along with competitor HSBC, were the only major UK banks did not need a taxpayer bailout during the financial crisis.
The annual report comes just weeks after HM Revenue and Customs ordered Barclays to pay £500m in tax it tried to avoid.