Emirates presses Airbus for A380 wing compensation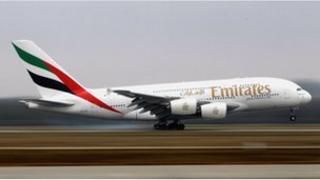 Emirates Airlines has said it wants compensation from Airbus, saying it will lose $90m (£57m) while repairing its A380 superjumbos affected by hairline cracks in their wings.
Emirates found cracks on the wings of 10 planes it has already inspected.
It added that every one of its 21 A380 fleet would need remedial work.
Last month, the European Aviation Safety Agency ordered all A380 superjumbos to be checked, while saying that the plane was safe to fly.
Emirates president Tim Clark told the Financial Times that the grounding caused "a lot of commercial hardship".
The firm has ordered a further 69 A380 planes, making it the largest single customer for the aircraft.
Airbus owner EADS insists that the "safe operation of the [A380] planes is not affected".
The hairline cracks were first discovered by engineers of the Australian airline Qantas. They measure less than two centimetres in length, and are found in the planes' wing rib feet, the metal brackets that connect the wing's ribs to its skin.