Wetherspoon cuts plans for more pubs as sales fall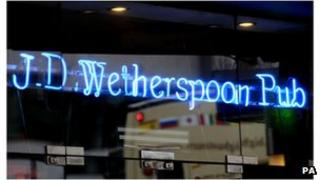 Pubs chain JD Wetherspoon has cut its expansion plans, announcing a fall in second-half sales as it blames the UK's tax regime.
It will now open 40 new pubs this year instead of 50, blaming increases to excise duty and business rates.
The firm reported pre-tax profits rose 11% to £35.8m in the six months to 22 January from a year ago, with sales of pubs open more than a year up 2.1%.
However, sales fell 0.7% in the six weeks to 4 March.
The firm added its tax bill, including VAT, corporation tax and other levies, has risen to £250.1m from £225.7m in the same period last year.
Tim Martin, chief executive of Wetherspoon said: "The main challenges for the company, in this financial year of 53 trading weeks, will be the continuing cost pressures resulting from government legislation, including further increases to excise duty, business rates and carbon tax."
He restated that pubs and restaurants are unfairly treated over VAT, paying 20% while supermarkets pay a fraction of the figure.
Mr Martin said: "This tax, and hence price, disparity has been felt more acutely in less-well-off areas of Britain, where price disparities matter more - and the number of closed pubs in these locations is clearly evident."
He added: "Over the next few months we will review our plans for pub openings in future financial years, taking account of our concerns for the tax regime on pubs."