Qantas ends joint venture talks with Malaysia Airlines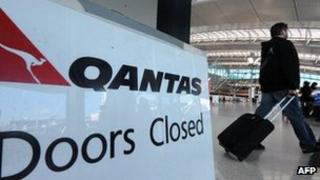 Talks between Australia's Qantas and Malaysia Airlines to establish a premium airline in Asia have broken down, in a setback for both carriers.
Qantas said the two sides could not agree on commercial terms. Qantas shares fell 4% in Sydney.
Qantas has announced plans to focus on the Asia region as a way to stem losses in its international business.
The chairman of Malaysia Airlines recently said the company was "in crisis" after reporting hefty losses.
Growth region
Qantas chief executive, Alan Joyce, announced last August the carrier's plans for a joint-venture premium airline based in Asia.
Analysts said Singapore and Malaysia were likely bases.
The venture would try to tap the region's growing demand for travel as well as lowering the airline's cost base.
"This is a massive blow for Qantas," said Siva Govindasamy, Asia managing editor of Flightglobal.
In a statement announcing the breakdown of talks with Malaysia Airlines, Mr Joyce said Qantas would continue to explore opportunities in the region through alliances and joint ventures.
Mr Govindasamy added that this would be essential for the future of the carrier.
"What they need to do is work a lot more closely with their partners in this part of the world. If they do not get out of Australia it's going to be very challenging."
Worker worries
However, the Australian carrier's attempt to be more profitable by setting up an airline outside Australia angered its workers.
Unions were concerned it would lead to jobs being sent offshore to Asia.
This led to disputes between management and unions, strikes and even the grounding of the entire Qantas fleet in October.
The two sides are now in forced arbitration after regulators stepped in.