Guitar-maker Fender plans £200m share flotation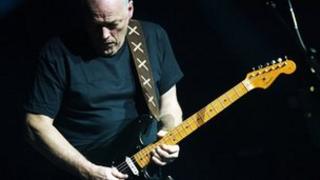 Fender Musical Instruments, the maker of guitars used by music greats from Jimi Hendrix to Pink Floyd's David Gilmour has announced plans for an initial share flotation.
Fender hopes the move will raise $200m (£126m), money that it will use to reduce current debts of $246m.
The company was founded in 1946 and has had a number of owners over the years.
Its current largest owner is private equity firm Weston Presidio, which has a 43% stake.
Fender has not said what percentage of the business it intends to float nor when it intends to do so.
The company is named after its late founder Leo Fender.
He sold the firm to broadcaster CBS in 1965. CBS in turn sold Fender to an investor group in the 1985.
Fender's best-known guitar models are the Stratocaster and Telecaster.
"The Fender brand in particular is closely associated with the birth of rock 'n' roll and has a strong legacy in music and in popular culture,'' the company said in a filing with the Securities and Exchange Commission, the US financial watchdog.