Newcastle United reduces losses and looks to break even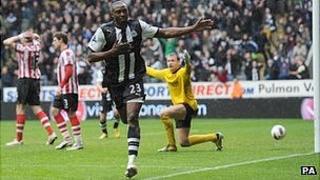 Newcastle United has reported an operating loss of £3.9m for the year ended June 2011.
It compares to a £33.5m loss the year before, and moves the club close to a break-even position ahead of Uefa's financial fair play rules coming in.
Promotion to the Premier League created a 69% rise in turnover during season 2010/11, from £53.4m to £88.4m.
Much of that increase came from a three-fold rise in TV revenues, with corporate hospitality sales also up.
The team under Alan Pardew is currently sixth in the Premier League and challenging for a place in Europe for next season.
Club managing director Derek Llambias said: "The club's financial results for the year end June 2011 are extremely strong.
"We can now count ourselves amongst very few clubs across the UK and Europe who are operating at close to break-even."
Mr Llambias said the club had adhered to a transfer policy which saw it pay for players upfront, not in instalments, which he called "a far healthier financial model".
The club's net cash spend on player transfers to June 2011, includes the sale of Andy Carroll, saw it £5.4m to the good.
A further £25m has been spent on transfers and players' wages since June 2011.
'Significant achievement'
The north-east England club also brought down its wages-to-turnover ratio to just over 60%, a level considered to be healthy in football finance circles.
"A further significant achievement has been to clear all of the club's interest-bearing debt, which in 2006/7 was costing £6.5m a year just to finance the debt," added Mr Llambias.
Club owner Mike Ashley continues to provide interest free loans totalling £140m to the club.