MPs demand even-handed tax deals by HMRC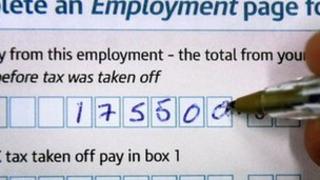 Tax disputes with big companies should be dealt with in exactly the same way as other taxpayers, a committee of MPs says.
The recommendation is one of several from the Treasury Committee.
Its report supports recent moves by HM Revenue & Customs (HMRC), such as its campaigns against specific groups of tax dodgers.
But the MPs say too much time and effort has been devoted to calculating the precise size of the "tax gap".
Last year, MPs on the separate Public Accounts Committee were scathing of the apparently "cosy deals" between the tax authorities and big companies such as Goldman Sachs and Vodafone.
To improve confidence in its handling of such cases, HMRC recently decided that all tax deals worth more than £100m would be handled from now on by a senior official acting as an "assurance commissioner".
The job will be to make sure taxpayers in general do not suffer from any such settlements.
The chairman of the Treasury Committee, George Mudie MP, said: "Taxpayers must have confidence that HMRC is being even-handed at all times, otherwise rates of voluntary compliance with the tax code could suffer.
"It is encouraging that HMRC has recognised that its processes for settling tax disputes were flawed and is implementing changes," he added.
Among their other recommendations, the MPs said HMRC should:
spend less time and effort in trying to calculate how much tax goes uncollected each year - last put at about £35bn
encourage greater voluntary tax paying by the public
offer a general disclosure "facility" for all tax payers, like the one for offshore account holders
encourage people who wish to come clean about their tax affairs to do so without the "unfounded" fear that they will be prosecuted as well as paying back taxes and penalties
but vigorously prosecute people who do not admit to hiding taxable money and assets offshore.
Chas Roy-Chowdhury of the ACCA tax body said: "The report is fairly positive about HMRC and the actions it has been taking."
"But one point is that HMRC needs to be seen to be acting properly, as well as actually acting properly."