UK interest rates held at 0.5% for third year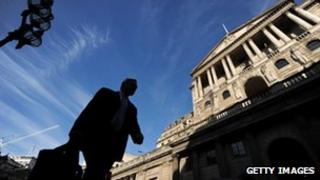 UK interest rates have been held at 0.5% by the Bank of England, marking three years since rates were first cut to the record low.
Many analysts expect rates to remain at that level for at least another year.
The monetary policy committee (MPC) also decided to make no change to its quantitative easing (QE) programme.
QE is the bank's scheme to boost the economy by buying bonds. Last month the bank boosted spending on it by £50bn, taking the total stimulus to £325bn.
The BoE started its QE programme, which buys mainly government-issued bonds in an attempt to free-up cash for lending, in 2009.
Ian McCafferty, chief economic adviser at the CBI business group, said: "Since the MPC has been signalling that the current policy stance is broadly appropriate, it appears that the economic climate would have to deteriorate to prompt a further extension of QE.
"Nevertheless, with economic conditions fragile and the level of uncertainty high, monetary policy decisions are still likely to be finely-balanced," he said.
QE has been criticised by the pension industry. Earlier on Thursday, the National Association of Pension Funds said the policy had reduced the value of final-salary pension schemes by a further £90bn.
Savers suffer
Analysts say that interest rates are likely to remain unchanged for months and probably years.
Howard Archer, an economist at IHS Global Insight, said: "A fourth year of interest rates at 0.5% looks highly probable and a fifth is far from impossible given the still difficult domestic and international conditions that the economy faces."
Last month, Bank of England governor, Mervyn King said he expected the UK economy to "zigzag" this year - dipping in and out of growth - but would avoid falling back into recession.
The Bank forecasts the economy will grow by about 1% this year and expects inflation will continue to fall in the coming months.
While low interest rates have been good for borrowers, savers have suffered over the past three years.
A typical cash Individual Savings Account (Isa) now offers just 0.61% interest, and an instant access account 0.2%, according to the Bank of England.
Back in 2008, a similar Isa would have offered 4.49% and a savings account 2.46%.